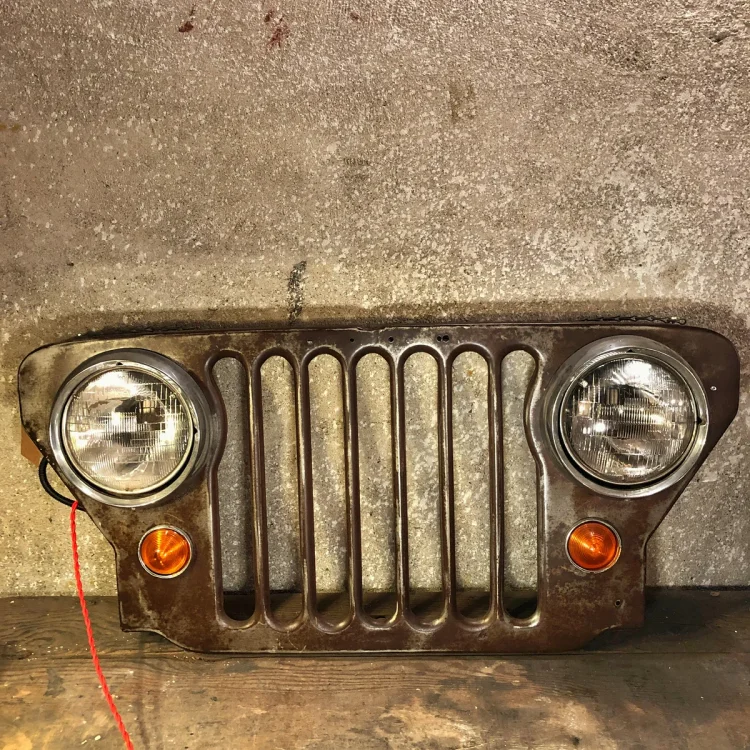 Circa 1960's Willie's Jeep Grill. Can be wall mounted or stood up on a Table/stand. Fitted with LED bulbs and my signature Red Cord.
This original vintage jeep grill is a fantastic piece that will be great in any jeep lover man cave, a Jeep renovator or home needing statement wall decor.
It is a Willys Jeep grill that has a great patina from years of use on the actual truck. Hang it on the wall for awesome Jeep wall decor.

Antique salvaged jeep grill
Lighted headlights and park lights
Designed To mount on screws mounted at 16 inches on center
Cord extends out the bottom and will go down and plug into an existing wall outlet,
this design is made to order and may take 2 weeks to ship
100% new wiring and fixtures. All soldered connections with vintage style cloth-wrapped wire. New wall plug. Switch is hidden above the driver's side light.
Purchase this military Jeep grill for yourself or for the Jeep lover for one of a kind Jeep grill wall art!