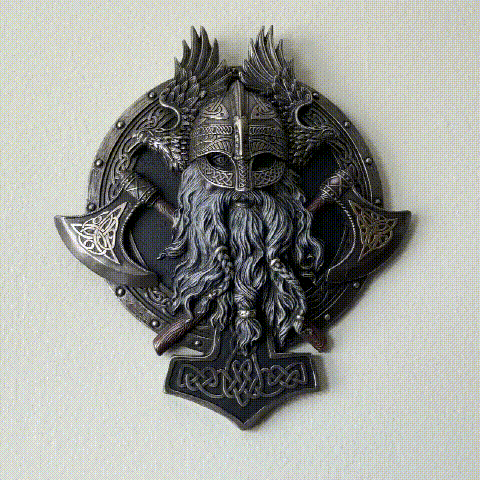 Overview:
This Viking wall plaque decor is a true piece of art pleasing with every detail precisely portrayed and assembled. It makes a unique gift to someone who is interested in history or simply appreciates fine things.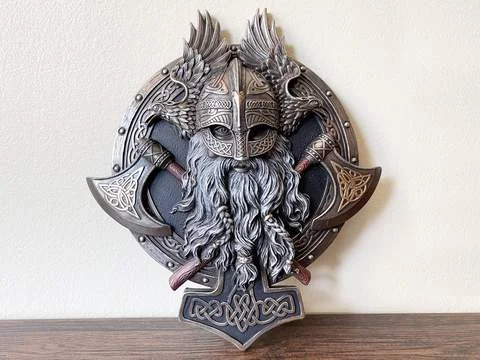 The Vikings were made up of landowning chieftains and clan heads, their retainers, freemen, and any energetic young clan members who sought adventure and booty overseas. At home, these Scandinavians were independent farmers, but at sea, they were raiders and pillagers.

During the Viking period the Scandinavian countries seem to have possessed a practically inexhaustible surplus of manpower, and leaders of ability, who could organize groups of warriors into conquering bands and armies, were seldom lacking. These bands would negotiate the seas in their longships and mount hit-and-run raids at cities and towns along the coasts of Europe.
Product details: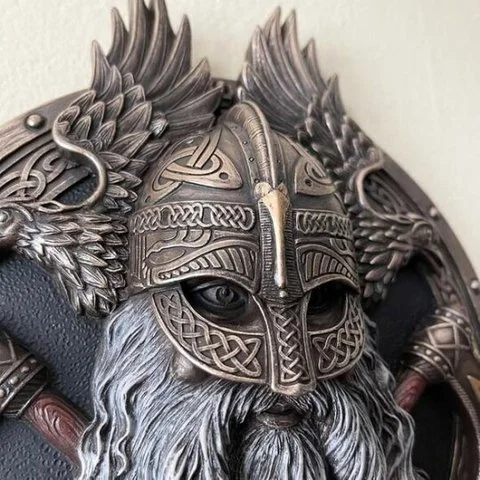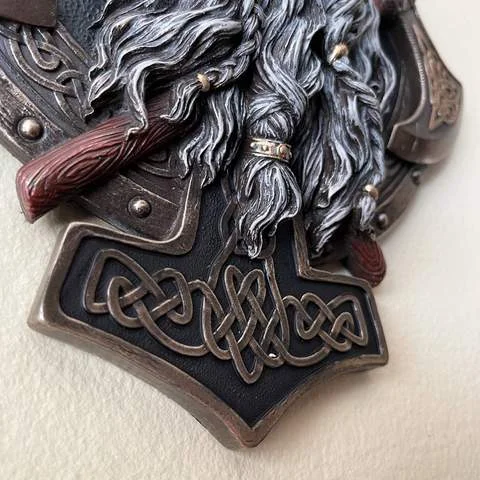 In front of the shield, there is a Viking warrior face in the center. It wears a sequined helmet. More knots adorn its helmet. In addition, the soldier has a long gray beard and braids at the end. Behind the warrior's head is a pair of bronze crows facing in opposite directions. There is also a pair of crossed shafts. Their bronze beard blades have brown handles with knots. At the bottom of the plaque, there is the lower part of Thor's Hammer design. It also has knotted details. It is an exquisite decoration, very suitable for hanging in the home or office.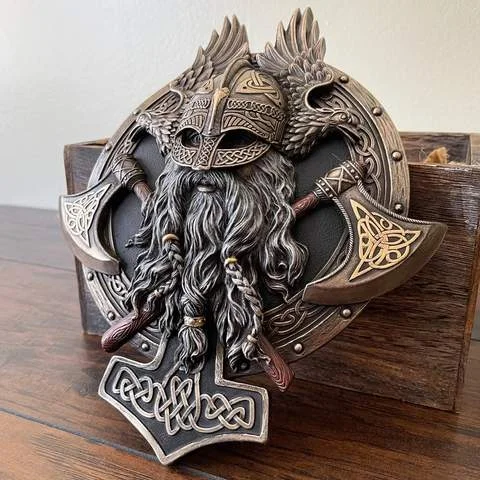 It can be easily mounted on the wall using the keyhole hook on the back. Suitable for offices, gardens, terraces, bedrooms, porches, residences, apartments, etc. Viking wall panel decoration symbolizes protection and guard, and is a great choice for gifts.
Size & Material:
Material: Medium: Bronze

Size:Height: 10.75 inches/Width: 9 inches/Depth: 2 inches