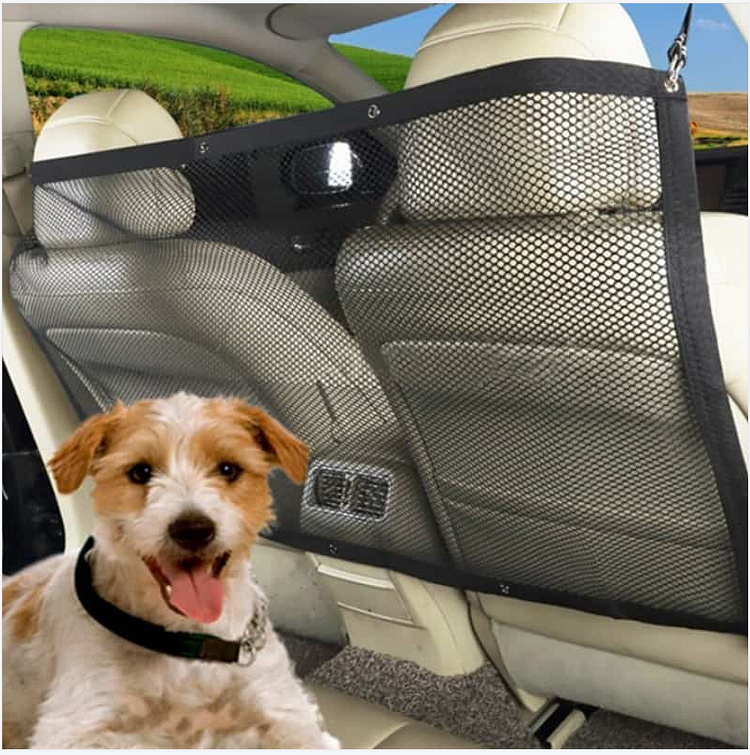 The Dog Car Barrier Rear Seat Wide prevents your dogs in the rear car seats or car trunks from disturbing while driving, making your drive safer and comfortable. It is is made of see-through heavy-duty woven mesh and Oxford fabric & comes with 4 hook straps for easy installations. This dog car barrier is ideal for your dog trips to the vet, visits to the park, or road trips & camping.
🐱‍🐉Prevent Distractions & Accidents

– Made from see-through heavy-duty woven mesh and Oxford fabric to keep your dog from launching into front seats and cause distractions and potential accidents. The see-through mesh ensures that your dog is visible to the driver and let your dog have un-obstructed front views. This dog car divider ensures comfortable and safe haven for the driver, passengers and dog alike.
🎯Easy & Quick Installation

– Fitted with 4 durable hooks and straps that allow quick & easy installation to the front seats and stay in place. When not in use, this dog car gate can be easily folded and stored away. No extra tools, sticker or drilling required.

(Please ensure that there're places such as grab handles for installation purpose before purchase.)
🎂Universal Fitting

– It is high enough that your dog can't get over it. Our dog car barrier can be fitted on most saloons, SUVs, trucks & trunks.

Size: 115 x 62 cm / 42.2 x 24.4 inches

(Length x Width)
🍟Easy to Clean

– Easily cleaned with a damp cloth or sponge. It is machine-washable too.
🥂Specifications

Size: 115 x 62 cm / 42.2 x 24.4 inches (Length x Width) Approximate
Materials: Oxford, Nylon woven mesh
Alt