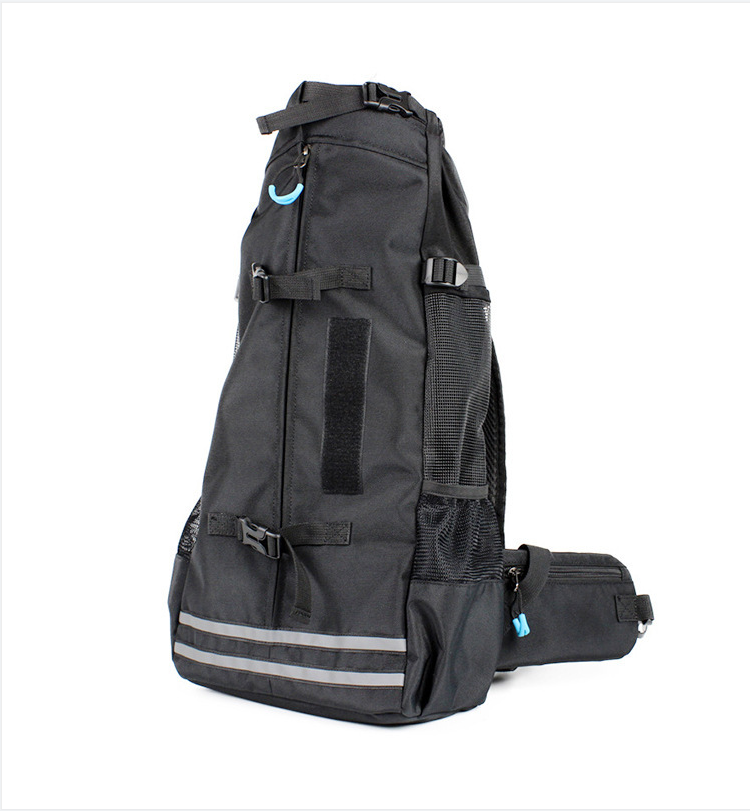 The Dog Carrier Backpack Medium Dogs lets you carry your dog safely & comfortably anywhere. It's great as a dog backpack carrier. It is made of high quality, durable breathable fabric, safety leash & adjustable top opening to prevent your dog from falling out. It includes comfortable padded shoulder straps & an adjustable chest strap to help disperse weight. Great for your dog's outdoor activities. Suitable for Puppies, Small & Medium-sized dogs.

🎯Safe & Secure for your dog

– The dog carrier's top opening come with adjustable heavy-duty straps for better fittings and prevent your dog from falling out accidentally. It includes a safety leash with a snap buckle that can be secured to your dog's collar. Additional adjustable straps are included on the carrier for expandable design & better fittings.
🐱‍🐉Lightweight & Durable fabric

– The dog backpack carrier is lightweight and made of durable, heavy-duty 600D Oxford polyester fiber & breathable mesh fabric for ventilation and your dog's comfortable stay. There're 2 holes for your dog's forelegs or front legs for comfort. It is heavy-duty, durable & easy to clean.
⚾Comfortable Carrying with Back Support

– The dog backpack carrier comes with wide & thick padded shoulder straps to disperse weight better and can be easily adjusted according to your height. It also includes an adjustable waist strap. The back of the carrier is made of a padded foam panel for good back support.
✨Reflective Strips & Bottom Panel

– It includes 2 reflective strips on the backpack to ensure visibility & safety at night. Bottom panel is included to provide support.
🎨Convenient Side Pockets

– There're side pockets and a front zipper pocket for your stuff such as dog treats, water bottles, poo bags, your wallet, cell phone, or keys. Perfect for your dog's outdoor activities.
🎈Size Guide: Sizes are determined by your Dog Back Length that's measured from the neck to the back before the tail. Suitable for Puppies, Small & Medium-Sized Dogs with Weight from 8 – 25 kg / 17.6 – 55 pounds. Please ensure that you take your dog measurement according to the Size Guide below before purchase. See below for more details.
Size Guide (Approximate)
1. Measure your Dog's Back Length just behind the neck to the back before the tail with a soft measuring tape.
2. Match the measurement to the Back Length Range & choose the Size. (eg. Back Length = 52 cm, choose Large)
3. Check to ensure that the Chosen Size's Neck Girth is within your dog neck girth so that it can fits properly.
| Size | Back Length (cm) | Neck Girth (cm) | Back Length (inch) | Neck Girth (inch) |
| --- | --- | --- | --- | --- |
| Medium | 43 – 50 | 38 – 42 | 16.92 – 19.68 | 14.96 – 16.53 |
| Large | 50 – 58 | 40 – 44 | 19.68 – 22.83 | 15.74 – 17.32 |
Dog Carrier Backpack Dimensions (Approximate)