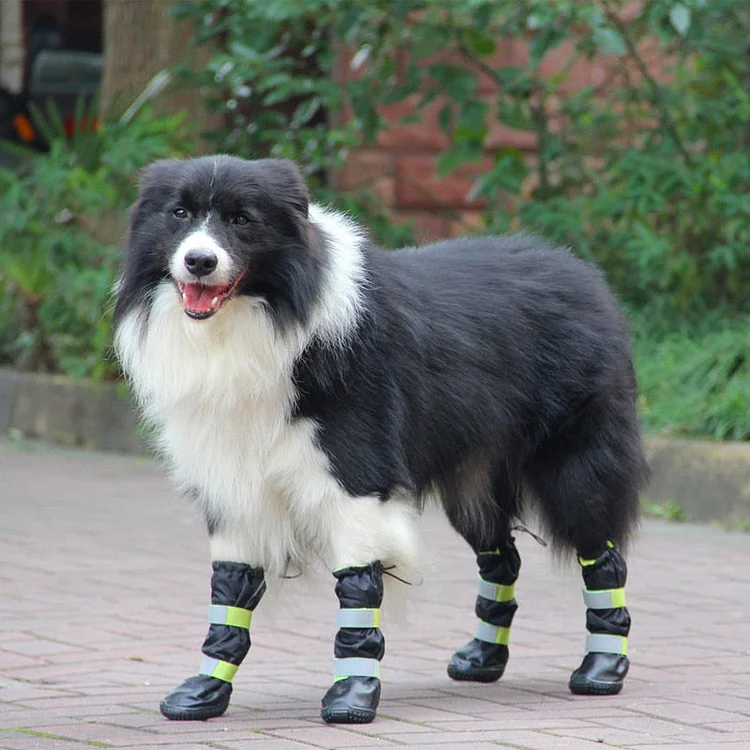 Introducing our top-of-the-line Dog Waterproof Boots, the ultimate solution to keep your furry friend's paws warm, dry, and protected in the harshest weather conditions. While dogs are resilient creatures, certain weather elements like winter can pose risks to their paw health. That's where our boots come in, providing the much-needed insulation and safeguarding your canine companion's paws during chilly outdoor adventures.
Winter brings its fair share of challenges, including ice accumulation between your dog's toes. This can lead to cracked paws and even bleeding, putting their overall well-being at risk. The American Veterinary Medical Association strongly recommends checking your dog's feet frequently during winter outings and washing off any deicer or salt upon returning home. Our Dog Waterproof Boots offer a proactive approach to protect your pup's paws from these potential dangers.
Let's explore the remarkable features of our boots:
Waterproof: Our boots feature a warm inner lining material that shields your dog's paws from snow, rain, mud, salt, and other elements. No more soggy paws or discomfort during outdoor excursions. Keep your dog's paws dry and cozy with our reliable waterproof design.
Reflective: Safety is paramount, especially during dark and low-light conditions. Our boots are equipped with two reflective strips for enhanced visibility. Whether you're taking an evening stroll or embarking on a nighttime adventure, these reflective strips ensure your dog remains visible and safe.
Nonslip: The durable rubber sole of our boots provides excellent traction, offering a secure grip on various surfaces. Your dog can confidently conquer outdoor activities without worrying about slips or falls. The comfortable and environmentally friendly rubber material ensures a pleasant experience for your furry friend.
Tall Boots: Designed for the winter season, our boots are perfect for snowy, icy, rainy, and wet conditions. Their tall design adds an extra layer of protection, shielding your dog's legs and paws from the harsh elements. Suitable for large and medium-sized dogs, our boots offer superior coverage and insulation.
Before placing an order, measuring your dog's paws accurately is important to ensure the perfect fit. Our Dog Waterproof Boots are available in various sizes to accommodate different breeds and paw dimensions. Refer to our size chart and measurement guide to find the ideal fit for your beloved companion.
Size Chart
Size XXL Length 10cm (3.94 inches), Width 9cm (3.54 inches), Height 26cm (10.24 inches)
Specifications:
Size: XS, S, M, L, XL
Color: Black, Blue
Material: Leather
Feature: Daily wear/walking/hiking
Style: Cute
Suit for: Medium and Large Dog
Package Including
1 set (4pcs)
Invest in your dog's paw health and overall comfort with our Dog Waterproof Boots. Not only do they provide essential protection, but they also make a fashion statement. Choose quality, style, and functionality for your canine companion. Order now and let your dog explore the great outdoors with confidence!