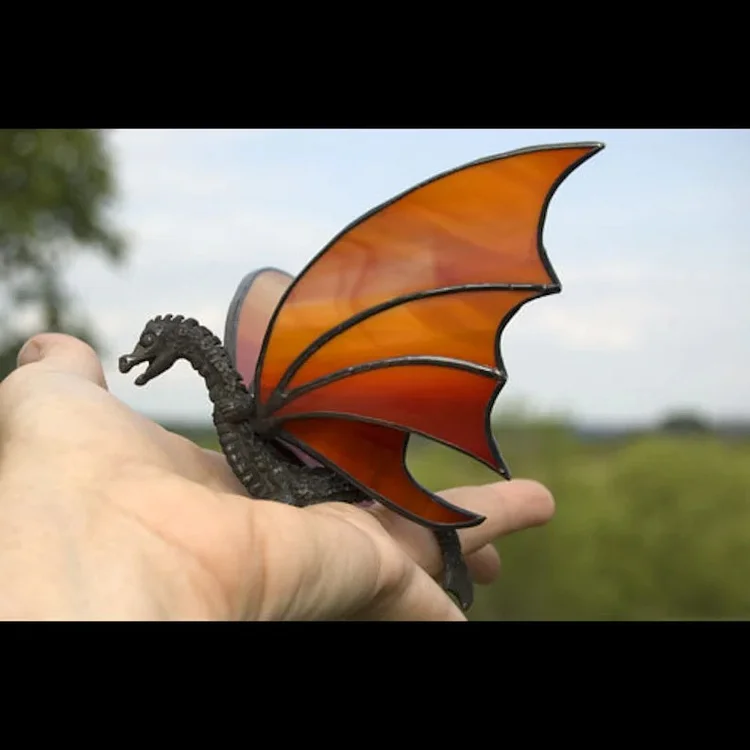 Everyone needs a dragon! This one is hand made, with a life-like body and stained double wings. His body is about 4 inches long, with a wingspan of approximately 6 inches. He hangs from a 4 inch chain.
Our Green Dragon Statue with Solar Pearl greets guests with unique style and makes a great conversation piece.
Each one is a handmade work of art, and each piece is unique. Yours will vary from the one shown due to natural variances in the Wing color and the hand made nature of the piece.
🐉In some cultures, the green dragon is thought to represent Earth and can symbolize power, strength and luck. It is sometimes depicted holding a"flaming pearl," which symbolizes its wisdom.
🐉Our gorgeous dragon of blues and greens and leafy scales is not only an eye-catching accent for your yard or garden, but its pearl will help light the way to your front door using solar power technology.
Placed anywhere outdoors, this mythical dragon will spark conversation.
This lifelike dragon is simply the perfect decoration at home. Bring smiles and good luck to everyone who sees it. Suitable for garden terrace grass house.
Material:Metal, resin and acrylic