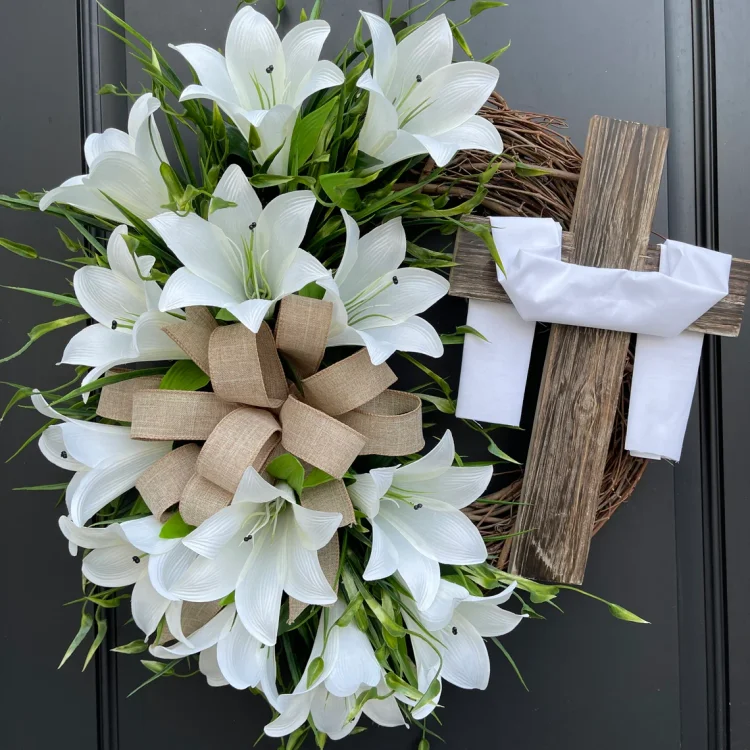 Are you and yours ready for the Easter ? This year, let him (and all your friends and family) know that your home is definitely the place to be this Easter by hanging this beautiful Cross Wreath on your front door, in your entryway or over the mantel. Not only will it catch everyone's eye, it is virtually guaranteed to have everyone wishing they had seen it first!
This Easter Wreath with Cross make the Perfect Housewarming Gift for a religious family,This Beautifully Handmade and Detailed wreath is a one of a kind spring wreath with white flowers!It is a combination of white lilies, white ribbons and crosses.
What a great way to welcome Easter into your home.✨This wreath will open a new chapter in your circle of friends, you will lead a new trend! Welcome friends and family with this elegant Easter wreath.
This beautiful wreath will brighten up your entry as well as your day. It has fantastic curb appeal and will put a smile on the face of people passing by.
The wreath is loaded with assorted greenery and high-quality life-like-looking florals. Soft colors are perfect for Easter decor.
Makes a GREAT gift!! A great piece for HAPPY EASTER!!
Handmade
Size: measures 16-18 inches from tip to tip and 53 inches in depth.
Swear to god: I will never sacrifice quality or use inferior materials! My goal is to always exceed your expectations.
Update: Due to high demand, our official price for this product is low, so order now while supplies last!