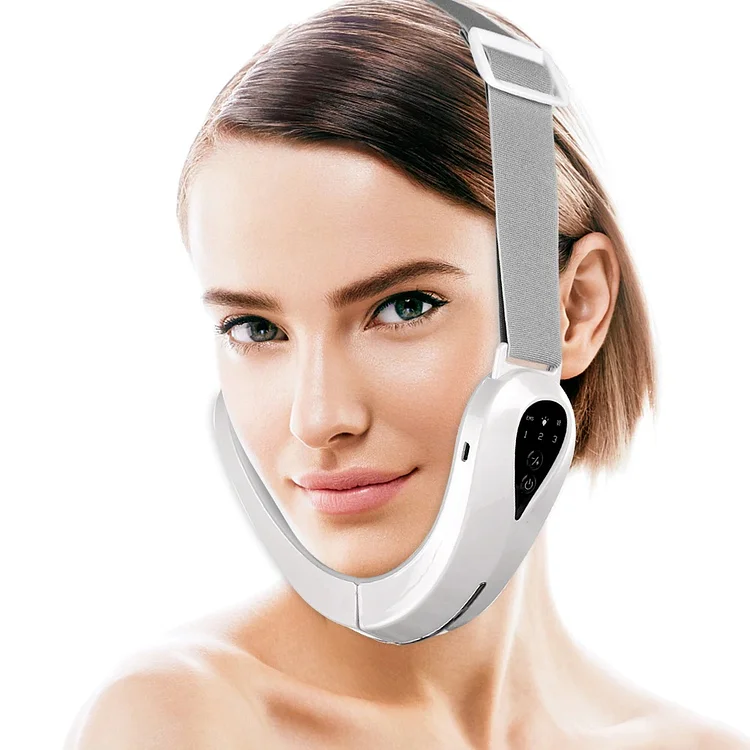 Afraid of getting freckles, wrinkles, and other skin imperfections? Minimize the appearance of those imperfections while protecting your face from sagging with our Face Lift Thinner Massager! It is safe for all skin types including sensitive, oily, and dry skin. It also minimizes the appearance of fine lines and wrinkles for a more youthful appearance!
LIGHTWEIGHT & LONG-LASTING

- This device is lightweight and flexible for you to use for longer periods of time without straining your face. The device gets fully charged in 2 hours and can support 12-15 times of use.
IMPROVE FACIAL LINES

- It emits EMS electronic pulse that stimulates muscles, helps slim the face, and smoothens up muscles. Offers 10 vibration levels to help relax facial muscles, improve the strength of micro muscles, increase the flexibility of the face, fully lift and tighten facial muscles, and shape the face.
This non-surgical face lifting device helps you lift your face with the phototherapy treatment. When using the LED massager device, you are exposed to a variety of artificial LED lights - hot and cold - that treat your skin problems deep within.
The LED light waves penetrate the pores of your skin and eliminate all bacteria responsible for breakouts, blemishes, inflammation, and dull skin. While the vibrations and infrared rays stimulate your blood circulation and massage your skin to eliminate wrinkles, fine lines, and heal sun-damaged areas to achieve face-lifting at home.
Your double chin, necklines, and loose skin are the results of sun exposure, dryness, genetics, and age... Our
Face Lift Thinner Massager is the best way to safely rejuvenate and repair your skin without surgery, which brings you all the benefits of expensive clinical treatments at home.
Non-Surgical Face & Skin Tightening
EMS Micro-Current with Infrared Physiotherapy
Soothing 42 Degree Celcius Hot Compress Massage
Easy to Wear & Snugly Fit Most
Specifications:
Material: ABS
Color: pink/white
Size: 16x13x5cm
Weight: 186g
Battery: 400mAh
Input: 5V1A
Power: 4W
Package Includes:
1 x Face Lift Massager Device
1 x Belt
1 x Charging Cord
1 x User Manual