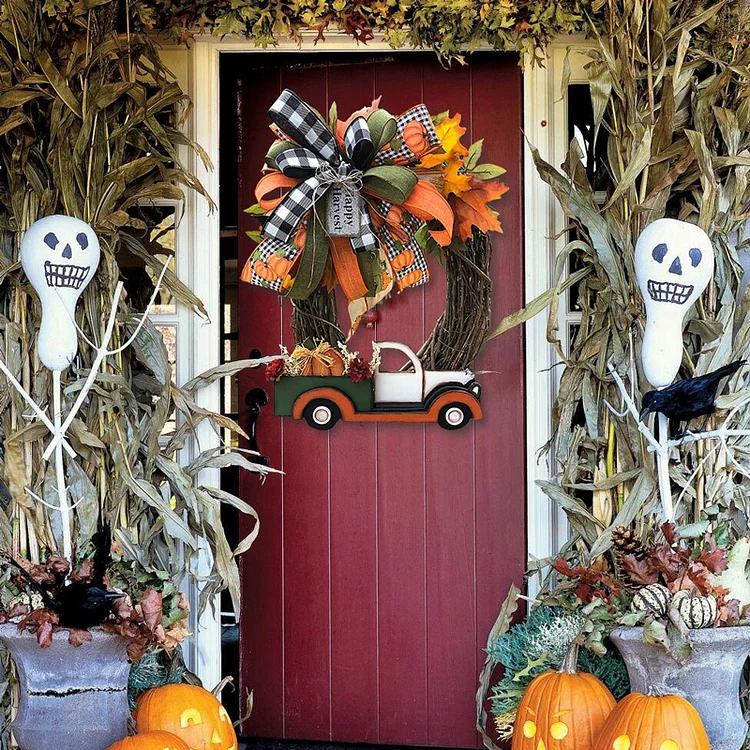 😍Blooming with Autumn's bounty, this wreath echoes the fall tones found in nature in the most amazing way. You will fall in love with it at the front door! Your friends will be surprised by your decoration!

Always remember that my wreaths are one-of-a-kind. There are no two wreaths exactly alike. So if there is something that is perfect for you…don't hesitate!
Show some real pictures of buyers! Can't imagine what a surprise they were when they received the goods!
Focus: Handmade
Material: acrylic/vine
🌷SIZE: Measurements are approximate & from tip to tip > Tip to tip of leaves, stems, vines, grasses, or bows, just as pictured.
12 inches tall 10 inches deep(This is the size including the flowers, The rattan is about 10 inches)
Applicable throughout the year.
Covers indoor/outdoor versatility



Feature:

This wreath is on a grapevine oval wreath. Hand-painted truck, With a beautifully handcrafted Fall bow.
It will provide exquisite gifts for any occasion or special person.
*If hanging outdoors, it is recommended to take a covered area to protect the wreath from bad weather and other factors.

The perfect gift: This beautiful wreath is perfect for friends or family!!
⭐How to use⭐
During the holidays, it can be hung on the wall, door, or even on the mantelpiece. Or outside the house, garden, or deck. This is a highly collectible nostalgic gift, the perfect gift for family and friends. The wreath is made of quality materials and will last a long time without the maintenance! Thanks!
If you choose to hang your wreath outdoors, please take care to protect it from the sun, wind, and rain.
If your wreath is mounted on an indoor door, we recommend securing it in two positions to prevent it from hitting the door when it is opened or closed.