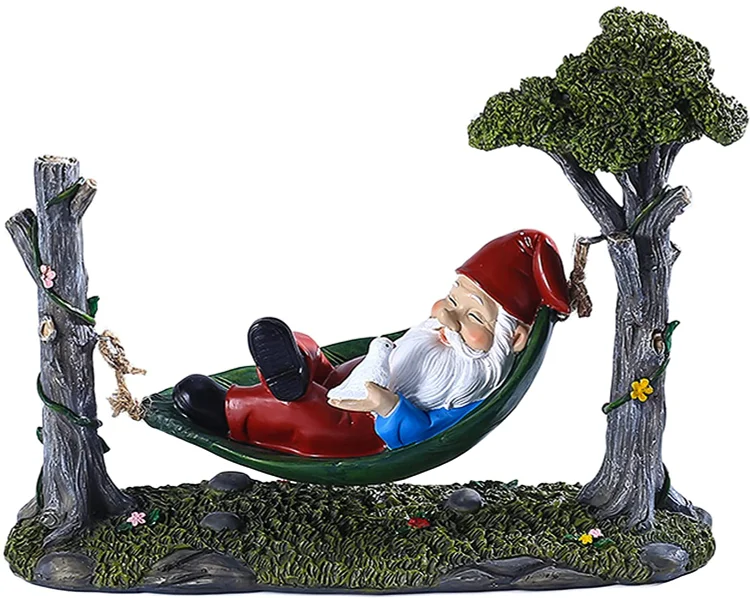 ♬Size of 9.44"(L) x 3.14"(W) x 7.28" (H). Big enough to be noticed but small enough to fit on a bookshelf. Perfect size for many locations. It is very suitable to be set on porch, patio, by flower beds, under the trees, fence, or beside the wall of kid's room, bathroom, living room, which is a vivid indoor/ outdoor decoration.

♬Casual design. The gnome lying in a hammock holding bird surely will be one of the centerpieces of your house and garden, reminding you enjoying your life. After days of hard work, you deserve some time for yourself. Playing with birds, and enjoying the beauty of the nature. The gnome is perfect for ornaments. It is also a perfect gift for kids, your friends, gnome lovers or haters, moms, dads, daughters, grandparent in any occasion such as housewarming, birthdays, festivals, Christmas, etc.

♬It is a durable non-toxic safe resin décor by hand-painting which can hold up well in the weather. The beautiful color and casual design can illuminate your garden and make you relaxed.

♬In stories, gnome is a mythological creature defending your home and protecting your fortune. It is a great choice for you to have one in your beautiful garden and house. More luck is brought to you.

♬The casual gnome can bring you good mood all the time, making you healthy mentally and physically. No need to worry about the cleaning, because a simple wipe will do. So, get a great statue for a real cause and know your hard earned money is being used the best way possible!