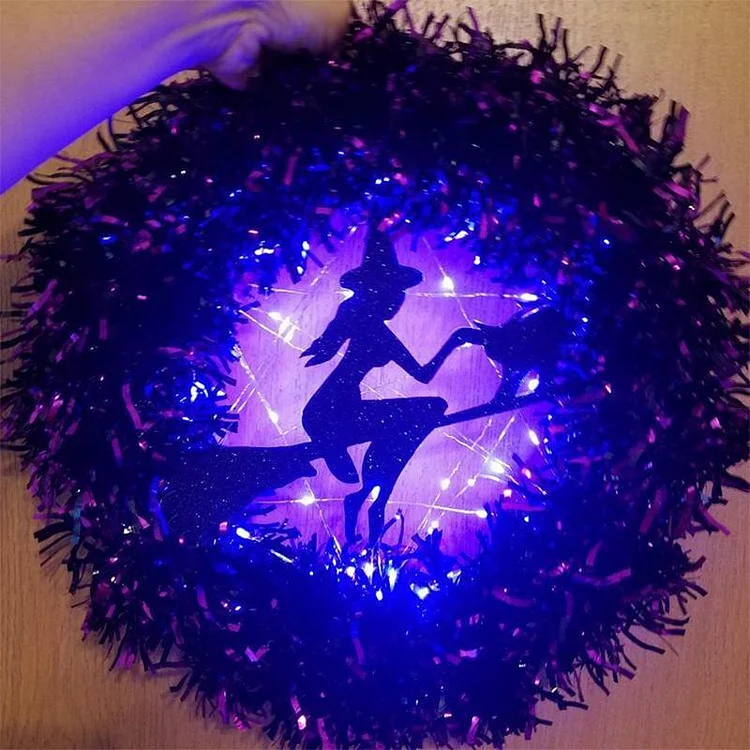 This is a time of immense fun especially for people that love to dress up and go to parties for a spooktacular time. Welcome the Trick-or-Treaters to your home with a stunning Lighted Halloween Wreath. Whether you want to go all out spooky with creepy bats and cats or just fanciful with shiny ornate pumpkins – there are plenty of ideas here for you to choose from.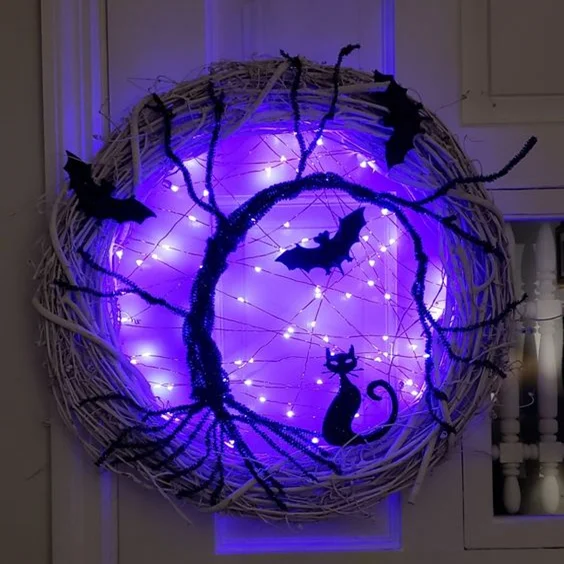 The green ribbon is wrapped around the dry branches, adorn the witch's broomstick. The magic potion was being refined in the jarwith pretty lights really makes this a feature piece for your door.
Channel witchy vibes with this black vine wreath featuring a broom and shiny orange spiders. The ornate ribbons really add a touch of glam that you will be proud to display on your front door.
These Halloween decoration perfect for the porch, or hang it inside and catch the eyes of Halloween party guests.
Delightfully funny, it's sturdy and will be a great addition to your holiday décor for years.
Synonymous with the spirit of the night – cats and bats will awaken your inner witching powers. Take a white vine wreath and attach purple firefly lights to the back of it. Then you can add spooky bats and a cat.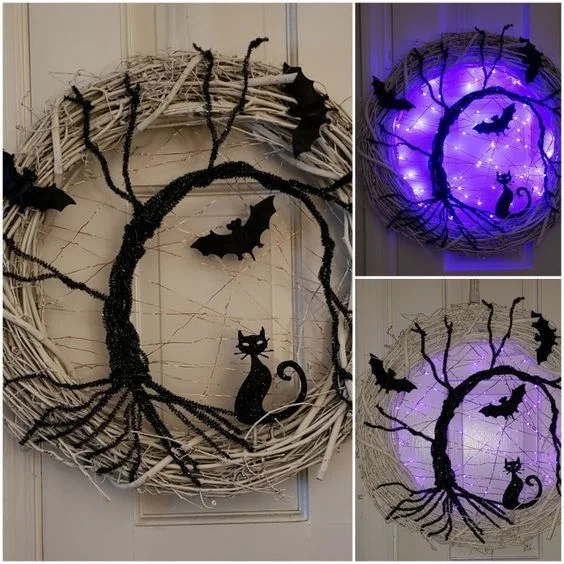 Skeleton skull spider web spooky lighted Halloween wreath.Add a twist with the addition of lights to your wreath. You can use firefly lights to add the spooky glow to this rather macabre looking wreath.
To really harness the spirit of Halloween – it's imperative to add skeletons to your decor. This skeleton even comes complete with a top hat!
Adding orange firefly lights to a vine wreath are an effective way to recreate a Jack o Lantern idea.
Specification:
Handmade

Materials: grapevine wreath, Halloween accents, black cat, LED lights

Diameter: 15 inches