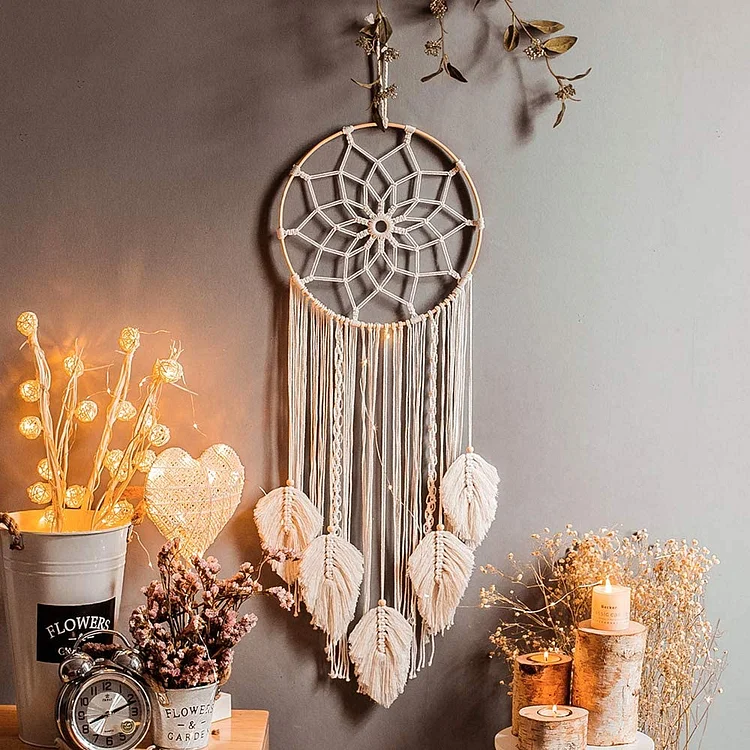 Decorate your home with this Moon Dreamcatcher! This is a decorative ornament that has a unique style. It is a wonderful material that you can hang inside your bedroom or near your window. As a matter of fact, this is a popular decoration in our modern generation. You can even give it as a gift to your loved ones. Likewise, it is nice to have an embellishment at home like dreamcatchers. It can provide a nice ambiance at home. Some people believe that putting a dreamcatcher at home can give wonderful benefits. There are people who place it near their bed. Also, they believe that it can cast away bad dreams. You can put it above your bed where the sunlight can reach it. Some people say that it can catch good dreams so you can sleep better at night and wake up joyfully.
Exquisite Decoration
This pretty ornament is an exquisite decoration that you can use. The feathers are soft and they can move gently as the wind blows through your window. You will love looking at this material throughout the day. Moreover, the crescent moon hanging together with the feathers symbolizes power and change. This will constantly remind you that you have the power to change your thoughts. That you can always change the way you think and how you handle things. While the hanging beads will let the good dreams to slide all the way to the person sleeping on the bed. It will attract good and positive energy. While rejecting the bad and negative ones.
Beautiful Style
The beautiful style of this dreamcatcher makes it even more attractive. Aside from that, the whole material is sturdy. It will not get easily damaged by the strong wind. In fact, you can also place it outside your window if you desire.
Material: Wool, Iron Ring, ABB Heads, Feathers

Total Length is approx 93cm/36.6(included the hanging line),diameter 30cm/11.8″