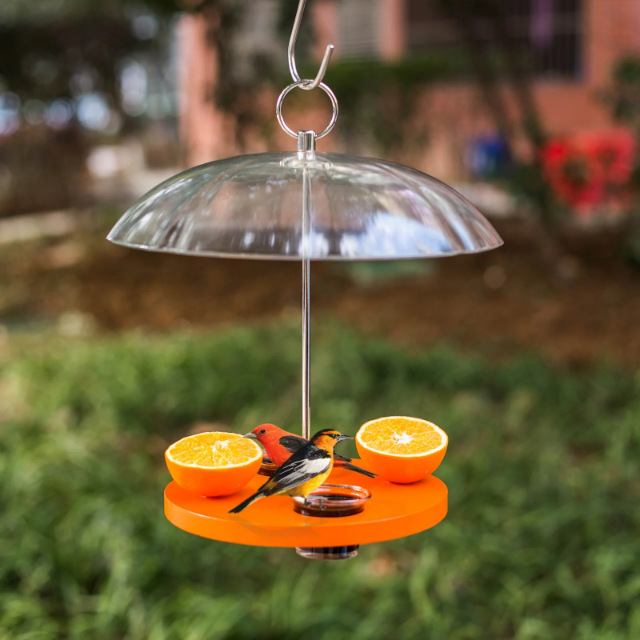 🐤 ORIOLE'S FAVOURITE - Elaborately-made and beautifully orange color designed could hold Oriole two kinds of favorite food - oranges and grape jelly, tremendously attract a large mount of Orioles to your yard. Even the cups can hold mealworms in for blue birds, and that means you could enjoy the sight of Oriole and bluebird at the same time.
🐤 WEATHER & SQUIRREL PROOF - Plastic guard to protect the food on the feeder from the sun and rain, and the biggest advantage is that squirrels or ant can no longer get close to them. At the same time, the plastic transparent reason, the greatest effort to watch the birds happy to eat.
🐤 EASY TO FILL AND CLEAN - 2-4 spoons of grape jam put into the thick plastic cups and then put orange halves on the stakes. Besides, the cover on the base can be easily removed, and can be directly placed in the sink for cleaning, or even placed on the tap for washing.

🐤 HIGH QUALITY - Made of thick transparent plastic, extremely durable, even if it falls on the concrete floor, it won't break. And the hanger is made of stainless steel and will not rust.

FUNCTION WITH STYLE: 2 removable glass jars, 2 fruit stakes. Holds 2 orange halves, grape jelly, nectar or mealworms. Vivid colors stand out, attracting more birds to your garden!
EASY TO REFILL AND CLEAN: Removable glass cups for effortless cleaning and refilling.
STURDY CONSTRUCTION: All accessories in solid metal. Top lid made with high quality plastic, base in high density board.
Package contains:
1*Oriole Outside Bird Feeder