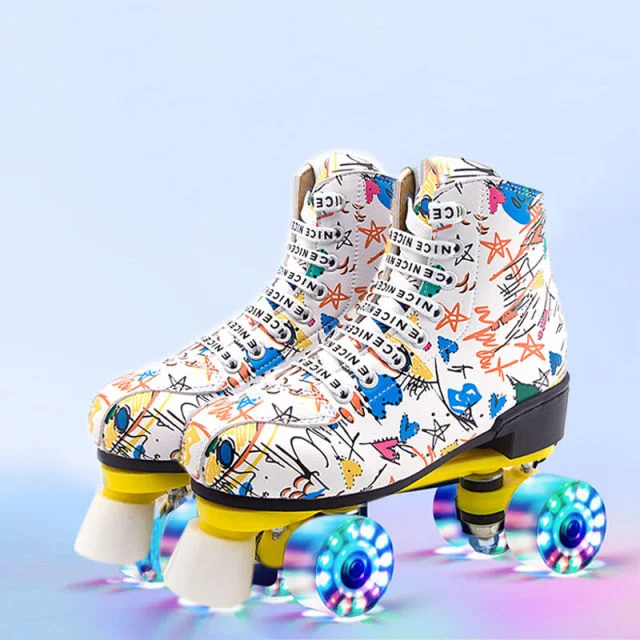 OUTDOOR ROLLER SKATES FOR WOMEN & MEN - GRAFFITI PRINTED
These expertly crafted one-of-a-kind skates will have you feeling great as you roll down the sidewalk on a sunny day! Made with quality breathable cotton lined fabric, your skates will feel like a natural extension of your foot, making skating for hours a comfortable smooth breeze!
The sleek quad roller skates are slim and lightweight with no overdone high-tech features to distract from what's important- a top-notch skate that's comfortable and durable for whatever your skate style is. Whether you're jamming out at disco hour or just having fun with friends at the park, these roller skates provide the perfect amount of support while you're on the move.
Our durable 58-millimetre 95A wheels offer amazing agility and movement. Plus, ABEC 6 bearings are super tough and provide unbeatable reliability. Designed with a soft, pliable boot that doesn't add bulk, dig in or weigh you down, these roller skates form to your feet instead of the other way around.
Perfect Skates: These skates use controllable high-top shoes to ensure the best safety. High-quality shoelaces can provide maximum protection to ensure the comfort and safety of the feet. The perfect fit and high degree of comfort can make your feet feel comfortable during use. There is a support column in the front, which is very suitable for beginners. It can better maintain control and fast braking. This structure ensures that the support will not be damaged.
Classic double-row skate design: Our classic double-row skates are safer and more stable than inline roller skates. They are very suitable for beginners and men and women who want to learn roller skating easily. Buy a pair and you can enjoy roller skating.
Wheels with ABEC 5 Bearings: Men's and women's roller skates are equipped with ABEC 5 bearings, and the ecological leather on the upper perfectly complements the entire concept of these four-wheel skates.
Wear-resistant Wheels: Roller skates are equipped with sturdy four-wheel skates, made of durable moulded materials, which can provide safe and reliable roller skating performance. The shiny wheels make you cooler when skating.
Quality Service: If you have any questions about the product you received, please feel free to contact us, we will reply to you as soon as possible, and our team is online 24 hours a day.