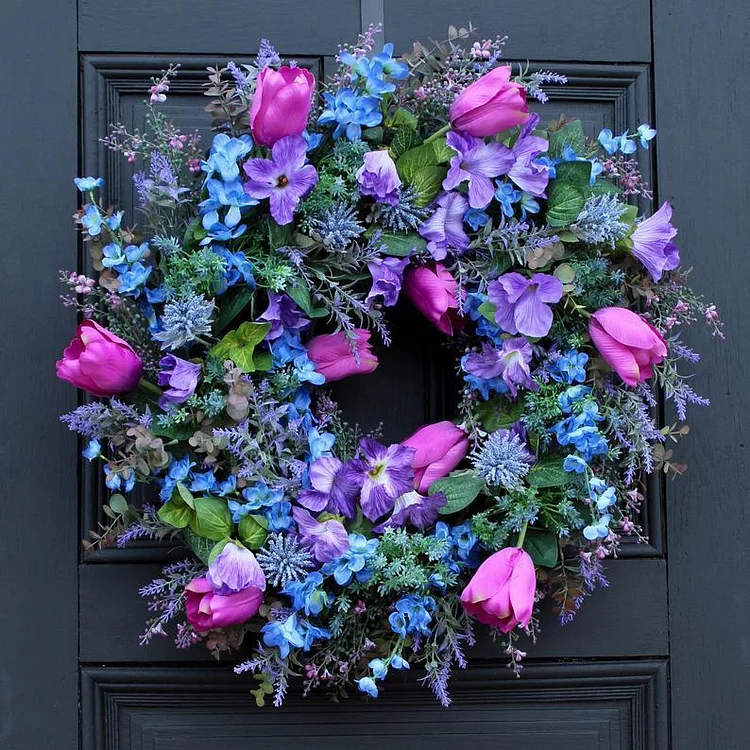 Add a colorful touch to your home decor with the Spring Summer Wreath. ❀This wreath adds the perfect pop of color and is perfect for all spring and summer long! 🥰
I can't begin to tell you what a beautiful wreath is . When people come to my door the first words is how beautiful this wreath! All expectations met! Really brightens your front door.
Indigo Dreamer - Purple Tulip Wreath is perfect for your front door or anywhere in your house. If you are looking for a wreath that you can see on the street and is sure to bring a lot of appreciation to your neighbors, then this wreath is perfect for you to bring some joy to your front door
I take great pride in creating a long lasting product that you will love to have in your home. Only quality artificial flowers and greenery are used to create the finished product.
🌟This beautiful Colorful Spring Summer Wreath is sure to put a smile on the faces of your visitors, and it can be sent to you now! 🌟
⭐Features⭐
NATURAL LIFELIKE APPEAL - Our artificial petal look ultra-realistic and lifelike. this wreath is as charming as the real thing.
BEAUTIFUL INDOOR OR OUTDOOR DECOR - This eye-catching Petunia & Blue Larkspur Front Door Spring Summer wreath adds charm to your holiday. Use this wonderful front door wreath to celebrate the arrival of the holidays.
EXQUISITE WORKMANSHIP - Our Petunia & Blue Larkspur Front Door Spring Summer wreaths are handmade by experienced workers. We value every detail of our prodcut.
THE PERFECT GIFT - This beautiful wreath is a great choice for friends or family.
DESIGN - Its design is inspired by early spring when the snow melts and the weather begins to warm.
⭐Product Size⭐
Handmade
Height:21.7 inches Width: 19.8 inches
Style: Petunia & Blue Larkspur Front Door Spring Summer Wreath
⭐How to use⭐
It can be hung on the wall, door, or even the fireplace during the festival. Or outside the house, garden, courtyard. This is a nostalgic gift with great collection value and a perfect gift for family and friends.