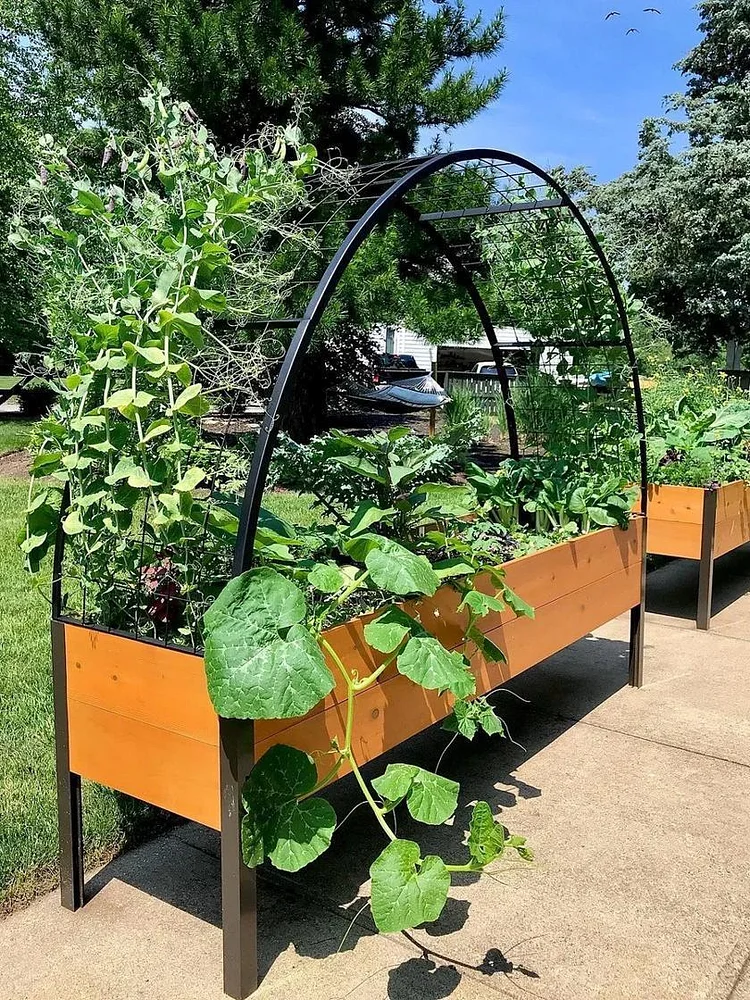 You can grow anything you want in this standing garden planters!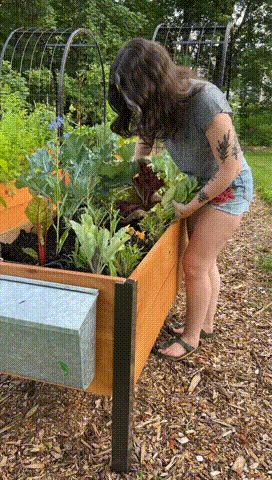 DESCRIPTION
ERGONOMIC and EASY- Easily grow vegetables and flowers without kneeling or bending. Perfect for your deck, patio or backyard. Being elevated, it keeps your crop pest free of rabbits, moles, and other ground pests.
GENEROUS SIZE – Add 16 square feet of growing space on your porch, patio or deck overall size is 96″Lx24″Wx29″H. The bed is 10 inches deep so you can grow big plants like tomatoes and root crops like carrots.
LONG LASTING and STRONG – Attractive look made from naturally rot-resistant cedar with heavy duty rustproof aluminum legs and corners
SPECIAL BONUS – Includes free planting guide
Clever Arch Maximizes Growing Space
Grow cucumbers, squash, clematis and more
4' high at mid-point of the arch
Fits our 2' x 8' Elevated Planter Box or Elevated Raised Bed
Can also be used to connect two 2' x 8' Elevated Planter Boxes or Elevated Raised Beds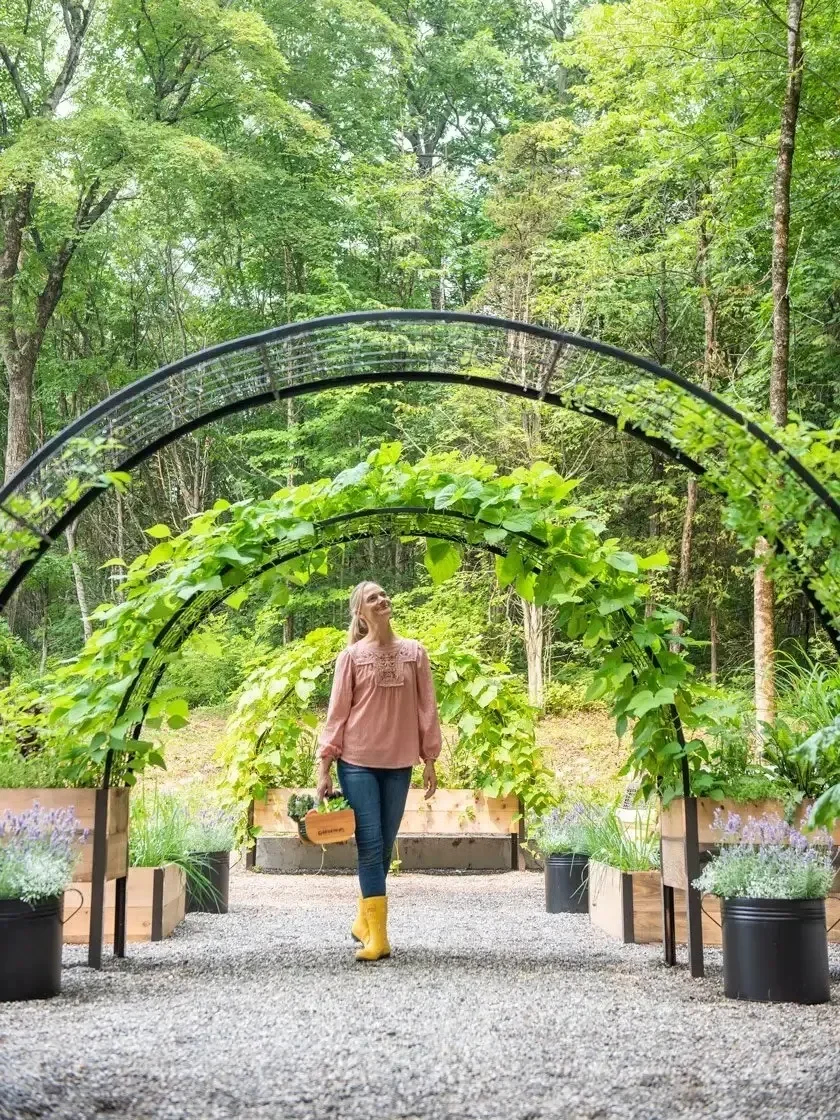 Our Most Popular No-Bend Planter Box is Now Self-Watering
1. Waist-high box eases knee and back strain
2. Lifetime aluminum legs for years of support
3. Grow a bountiful food garden in a compact space
4. Easy-fill tube with water-level indicator


We replaced the wooden planter box floor with four generous 5-gallon reservoirs that extend time between waterings and create more even moisture throughout the bed. In tests, our crops grew stronger and taller faster. And, since water is drawn primarily from the bottom instead of applied from the top, less water is lost to evaporation too
The height of the planter box has other advantages too: fewer weeds, reduced maintenance, and fewer critters nibbling at your prize plants. The sturdy aluminum legs wont buckle or sag, the wood sides are naturally rot-resistant, and our richly colored, food-grade, Vermont poly whey protectant is not only safe enough for your organic garden but will protect the wood against the elements.
Unlock the full potential of your Vermont-made elevated planter box or raised bed by adding this trellising arch to it. Tall enough to grow tomatoes underneath, you can plant all your favorite herbs and veggies in the center and robust climbing plants at the sides. Or, make a walk-through arch by linking two planter boxes or raised beds together.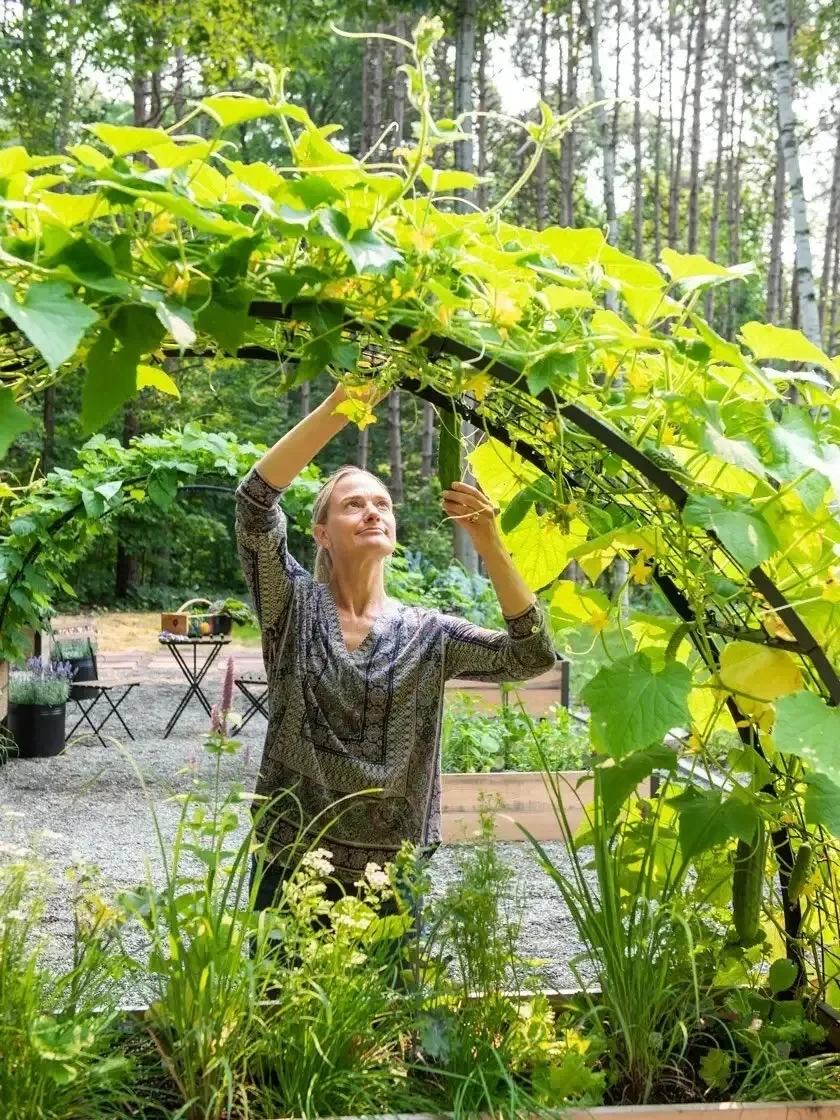 Set up one or more of these rectangular beds at the edge of your patio to create a convenient kitchen garden, or fill it with flowers for a stunning display. Like our other Vermont-made raised beds, the sides are held in place with our sleek and sturdy aluminum corners. The slatted base allows excess water to drain through while the permeable fabric liner keeps soil contained.
Easy to install: just pop the corner caps off your elevated planter or raised bed and slide the trellis feet in.
Product Details
Custom fit raised bed corners size of .87" x .875"
1" x 1" formed steel arch
Low carbon steel
Powder-coated, black
96" L x 24" W x 48" H at center fully assembled
Weighs 35 lbs.
Gardener's Supply Exclusive
We didn't think we could make our best-selling elevated raised bed any better, but we did! Now these no-bend garden boxes keep plants hydrated via a series of innovative, connected reservoirs that deliver water to roots on demand!
---
Thank you for being one of our valued customers.
Click on "ADD TO CART" to get yours now!
Demand is too large, please buy before it stocking out!!!