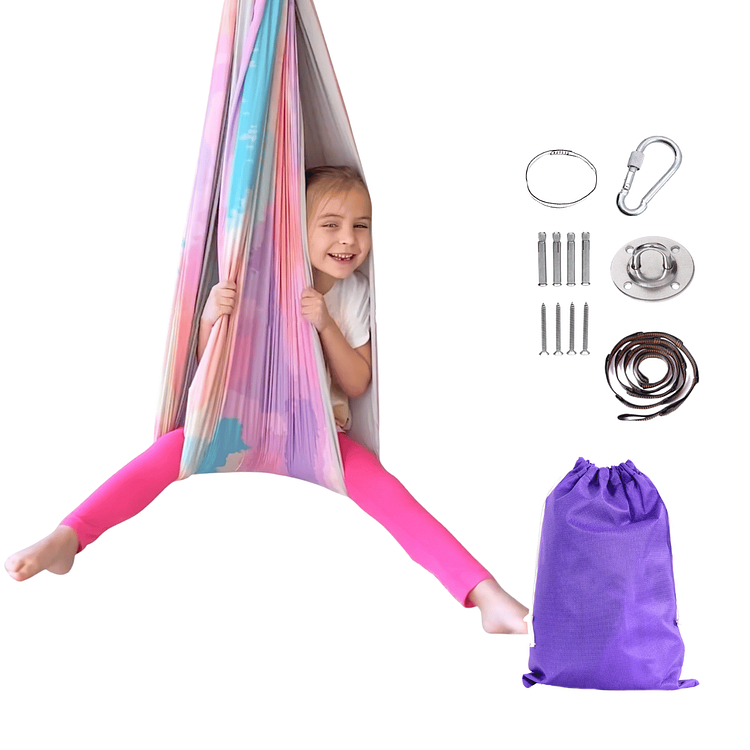 If you are looking for a sensory or therapy swing to help your child relax and get their bearings, you've come to the right spot. Our sensory swings are made of high-quality but comfortable canvas your child will want to spend hours in.
"This swing was the answer! My special needs daughter goes through moments of meltdowns, and her behavior is uncontrollable. It's been two months since my husband hung it in her room, and she goes to it every day. The material hugs and calms her, giving her the compression she needs when overstimulated. For a special needs parent, this swing is a MUST! It is very worth the investment."


Our Sensory Pod Swings are used by occupational therapists for autism spectrum disorder and sensory processing disorder. The Reversible Cuddle Swing provides a hug-like effect for little ones by providing Deep Touch Pressure (DTP). The Reversible Cuddle Swing also provides vestibular input. From infancy through adulthood, vestibular information contributes to the development of muscle tone, balance, eye movements, and more. Using slow, linear movements (back and forth, side to side), the Reversible Cuddle Swing gives much-needed vestibular input and creates a feeling of calm in your child.


Since our indoor therapy swing safely hangs from your ceiling, your child can receive the calming sense of well-being that swinging brings right in your home.
This Elastic Therapeutic Sling Swing is made out of soft, stretchy, durable fabric. Provides kids with hours of sensory stimulation, fun and relaxation. It is designed for kids with ADHD, SPD, Autism or Asperger's, giving them a sense of protection and helping to block out unnecessary sensory input.
Weight Limit: 200 lb.