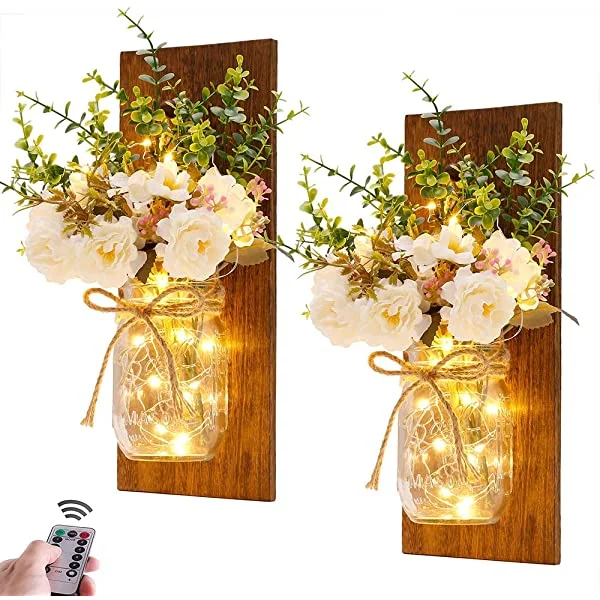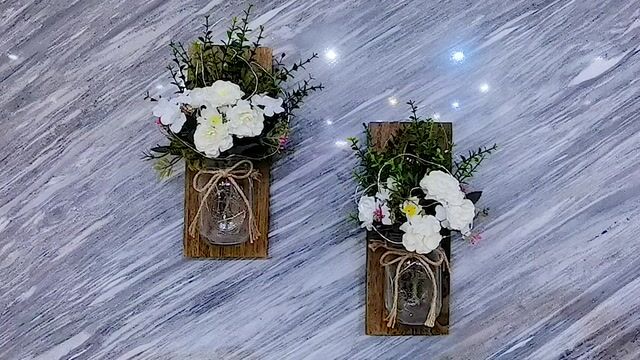 We choose the best quality materials handcraft; You can enjoy the handmade DIY process. You can also customize the jars with real flowers like roses, carnation, or jasmine, candles, and much more.The best home decorations
HOUSE ART BRAND
To provide green, high quality, cost-effective household products,and home decorator items.
We use only the classy quality materials available.
HOUSE ART Wall Sconces Mason Jar Lights Suitable for Modern Rustic Home Decor
Farmhouse Decor Mason Jar Sconces Wall Decor,
Modern farmhouse style combines antique and rustic decor with modern elements for a unique and stylish look. It's a comforting and welcoming style. So many love it because the farmhouse style is a bit lighter, brighter and more neutral, so your space looks more substantial and inviting.
Perfectly use as bedroom wall decor
Living room wall decor
Bathroom decor, home decor clearance
Kitchen decorations wall
Wall sconce with Timer remote control
Product Description
You are still thinking about how to add rustic wall decor furniture at the farmhouse? Or need a special gift? Our mason jar wall sconce may be your best choice.

✩ The vintage romantic of the farmhouse inspires the original intention of our design. In the tranquil, rustic home, you need a shabby chic mason jar lights decor, Add a retro touch to your country cottage.
You can hang it on one side of the small courtyard, Enjoy the warm light. When you go home at night; It will guide you in the direction of going back.

✩ We choose the best quality materials handcraft; You can enjoy the handmade DIY process. You can also customize the jars with real flowers like roses, carnation, or jasmine, candles, and much more.


✩ What's In The Box?
- 2 x mason jars (Diameter 3" Height 5"-16oz )
- 2 x wooden boards (13"x5.2"x0.6")
- 2 x silk hydrangeas
- 2 x polyethylene grass
- 2 x Led strip Timer lights
- 2 x 8 modes remote control
Features
Automatic switch function, more energy saving.

Switch mode: On/Timer/Off (6 hours Repeated cycle).

On timer, it will automatically turn off after 6 hours. Also it will automatically turn on again 18 hours after turned off, which means it will turn on the same time next day.

Smart remote control

Mason Jar Sconces with smart remote control,

8 modes with LED lights,

6 hours on,18 hours off timer setting,

the effective remote of control distance is 15 meters.
Features
Material: Wood, Glass, Rope, Plastic

Size: Wooden Board - 13"x5.2"x0.6"; Jars - Diameter 3" Height 5"-16oz

2*Mason jar, 2*wooden boards 2*White Peony with Eucaly, 2*led strip lights

2*Remote control

LED light color: amber glow

Power Source: 3* AA battery-powered

Batteries Required? Yes

Batteries Included? No

Whether it's a bedroom decor or a living room wall decor, it's a great choice.

At night in rustic home decor of the house, the surround of the starry sky and the tweet of insects.

Enjoy the soothing lights, Graceful white peony and eucalypt leaves are simple, stylish,and European in flavor.
| | | | | | |
| --- | --- | --- | --- | --- | --- |
| | Wall Sconces with Peony | Rustic Wall Sconces | Mason Jar Sconces | Wall Scocnes with Rose | Mason Jar Lights |
| Size | 13"x5.2"x0.6" | 13"x5.2"x0.6" | 10.2"x5.1"x1.2" | 13"x5.2"x0.6" | 13"x5.2"x0.6" |
| With Timer Lights | Yes | Yes | Yes | Yes | Yes |
| 8 Modes Remote Control Lights | Yes | Yes | No | No | No |
| Board Color | Brown Board | White Board | Grey Board | White Board | Brown Board |
| Flower Color | White Peony with Eucaly | White Peony with Eucaly | Peach or White Hydrangeas | White Rose with Eucaly | White Rose with Eucaly |
| Number of Set | 2 | 2 | 2 | 2 | 2 |