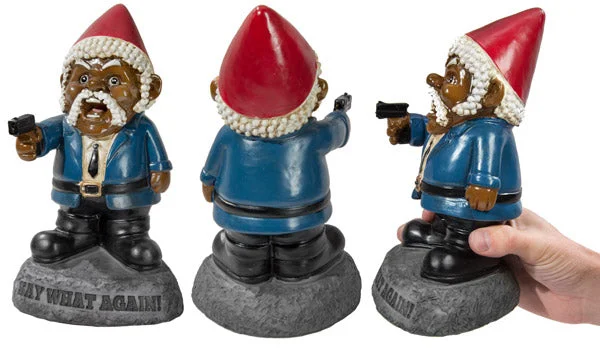 Gardening is usually considered a relaxing experience… unless you've got a 9mm pointed at your face.

Oh, I'm sorry. Did I break your concentration? This Big Kahuna of a garden gnome stands as a ruthless hitman against the tyranny of unrighteous weeds.

Simply put, if you've got BMF stamped on your wallet, then this is the garden gnome for you.

For people who like: Christmas gifts for him gardening gnomes

Features & specs
Looks an awful lot like Jules from Pulp Fiction
The platform reads "Say what again!"
Material: Polyresin
A-3.4" x 3.3" x 6"
B-6.5" x 6" x 10"

Say What Again!
A garden gnome is a fun and whimsical complement to the plants in your garden. Maybe you're more of a kingpin at the end of his rope type, or perhaps you'd prefer an undead gnome. But if you're a fan of cult cinema classics, you can't go wrong with the "Say What Again!" Gnome.


What ain't no country I ever heard of.

Question: What is it made from?

Answer: The gnome is made from rigid hollow plastic.

Question: What?

Answer: Say what again!