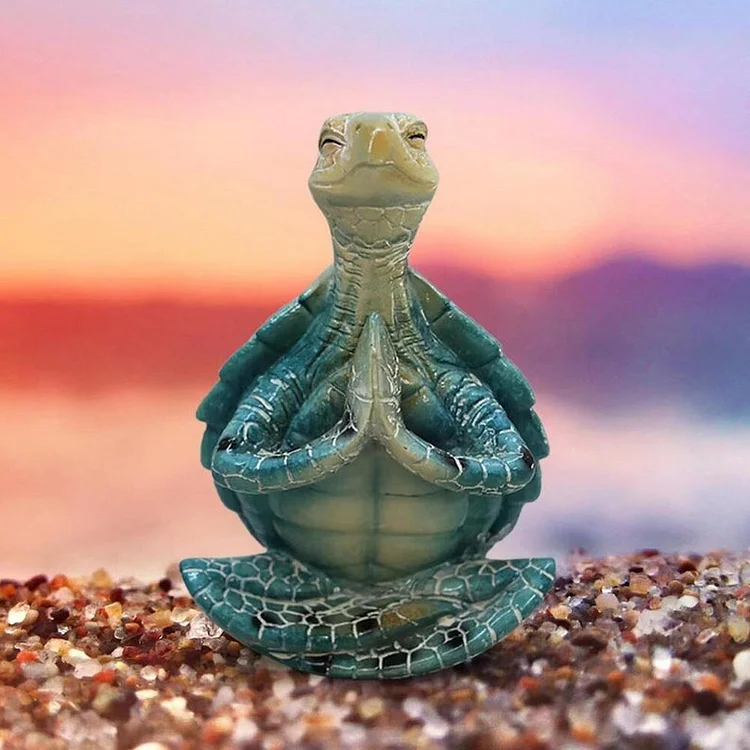 Blue Sea Turtle Figurine, Statue Yoga Position, Book Shelf Alter Decoration, Spiritual Home Decor Accessory Ornament, Turtles Meditation. Yoga Statue Figurine Peacefulness Meditating Sea Turtle Statue Decorations For Buddha Meditating Sea Turtle Miniature Figurine. Made of durable poly resin material, Meditating Sea Turtle Figurine is rust, weather and UV resistant to keep your statue looking new over time, which can be used for a long time.

Meditating with the most famous Yoga Pose, Meditating Sea Turtle Figurine empties his mind and searches his deepest to repent from all impurities and evil. He will make a placid decor for your home or garden. Meditating Sea Turtle Figurines are sure to make your yard look alive! This exquisitely designed garden statue will bring warmth and comfort to the heart. Display the statue outdoor figurine where guests can easily see it on your patio, garden or porch.

【Good Quality Material】Meditating Sea Turtle Figurine made of a strict selection of durable resin materials is rust prevention, sun protection and UV resistance and make your statue acquire a completely new outlook.

【Place Easily】Suitable for most locations in your home that don't fall down, Creative Sea Turtle Sitting Yoga is equipped with a flat bottom design and is liable to place and stable.

【Yoga Pose Design】Equipped with meditating on yoga poses design, Peacefulness Meditating Sea Turtle Statue create peaceful decorations for your home and the turtle empties his mind and searches for his innermost .

【Beautiful Decor】Used as a decorative gift for your relatives, friends, loved ones, etc, Sea Turtle Statue Decoration is a perfect and unique gift and believing in this meditative turtle statue will make them fall in love with it.

【Multi Use】Miniature Whimsical Sea Turtle Figurine provides a more widespread application, which is perfect for your indoor garden, yoga studio and diorama and ideal for photography projects, yard art, desk, collection cabinet, and bookshelf.

Specification:
Size: 10*5*6cm/3.94*1.97*2.36in
Weight: 100g
Material: Resin
Shape: Turtle Meditating

Free Shipping 5-15 Days! Thanks for supporting small businesses like mine!