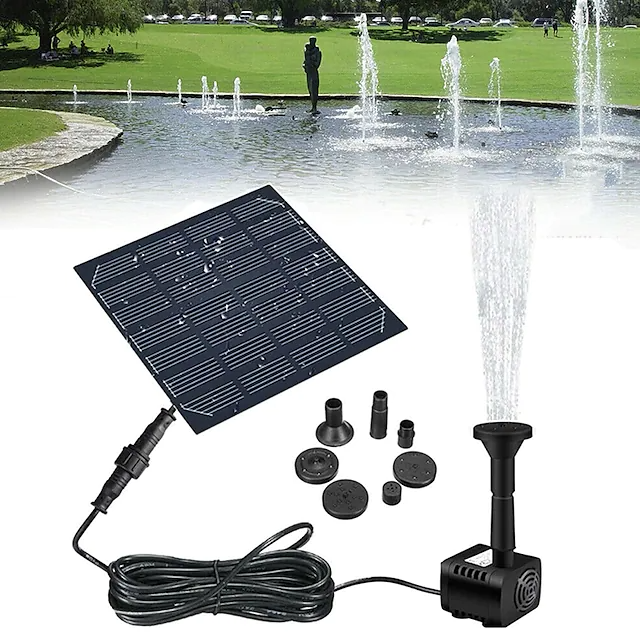 Bullet Points:
1. This pump runs automatically and is solar powered with no need of additional power, which is energy saving and environmentally friendly. Note: The solar panel must be completely exposed to the sun, and it must not be blocked, otherwise the pump will not work properly.
2. Maximum water height: 70 cm (27.6 inches). Line length: 12Ft. Maximum water area: 150 cm (59 inches). The height of the water depends on the intensity of the sun.
3. Once exposed to plenty of sunlight, it will start working within 3 seconds. Make sure the solar panel is not blocked and keep the filter inlet at the bottom free of debris.
4. This solar fountain has a life span of over 20,000 hours. It has a built-in brushless motor for longer life and lower energy consumption
5. Attached accessories and 4 nozzles for different water flow and water height. Suitable for bird baths, fish tanks, small ponds, garden decorations, oxygen water circulation.
Description:
Solar powered design, no extra power needed. The water fountain is energy saving and is safe and healthy to use.
Starts working in 3 seconds once be exposed to sufficient sunlight. Please make sure the solar panel is not shadowed and keep the filter intake on the bottom clear of debris.
Comes with fitting accessories,easy to assemble and set up, no need to use any special tool.
Comes with 3 spray heads, you can switch among them to deliver different water fountain effect.
Suitable for use in your aquarium, fountain pool, garden pond, fishtank, garden decoration, etc.