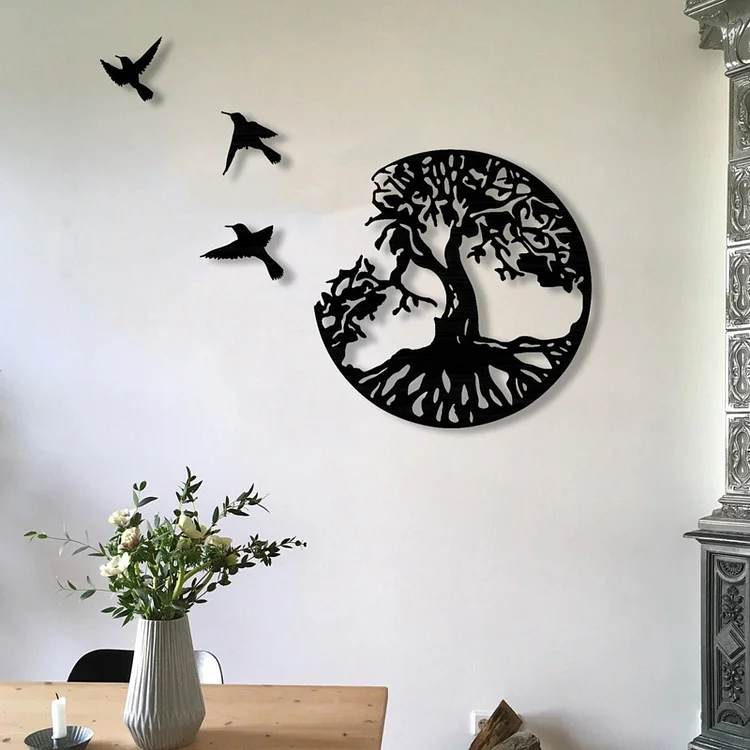 Looking for meaningful and eye-catching wall art for your home or office?
The Tree of Life Wall Art™ is a very popular and well-known image. It is a symbol of eternity, with branches reaching to the sky and roots deep in the earth. Some birds are soaring through the sky. It has a timeless elegance, can be incorporated into a variety of decorative schemes, and is naturally appealing. It is simple to set up. The Tree of Life, a symbol of how all life is interconnected, inspired this innovative wall sculpture. Indeed, the modern design will make a loving statement on your wall while also adding visual depth and attraction.
Why should you have this Tree of Life Wall Art™?
✅ Meaningful Artwork: The tree of life represents the link between heaven and earth, as well as eternal life. This artwork serves as a reminder that life is always on your side. It allows you to enjoy and appreciate nature, which improves your creativity, health, and overall quality of life.
✅ Eye-catching Wall Decor: It has an artistic and eye-catching design. Your favorite decorative wall art can be displayed in your kitchen, living room, back patio, outdoor porch, deck area, or anywhere else you want. Everyone will undoubtedly enjoy it.
✅ Reliable Material: This wall art is made of high-quality iron that is strong and durable, not easily broken, and will last for a long time. It is corrosion-free, rust-free, and weather-resistant. This is an excellent piece of metal wall art for any room.
✅ Safe & Space Saving: Does not contain any harmful substances, is non-toxic and is suitable for both humans and animals. It can be used both indoors and outdoors. The wall decor is thin, so it will fit well on your wall, taking up less space and providing a good visual effect.
✅ Simple to Assemble: Because this tree of life wall art sign has a hollow design on the back, you can hang it easily, saving you time and energy. These one-of-a-kind patterns will look great in any modern or rustic setting.
Specifications:
Material:

Iron

Size:

About 28*28cm/ 11.02*11.02in