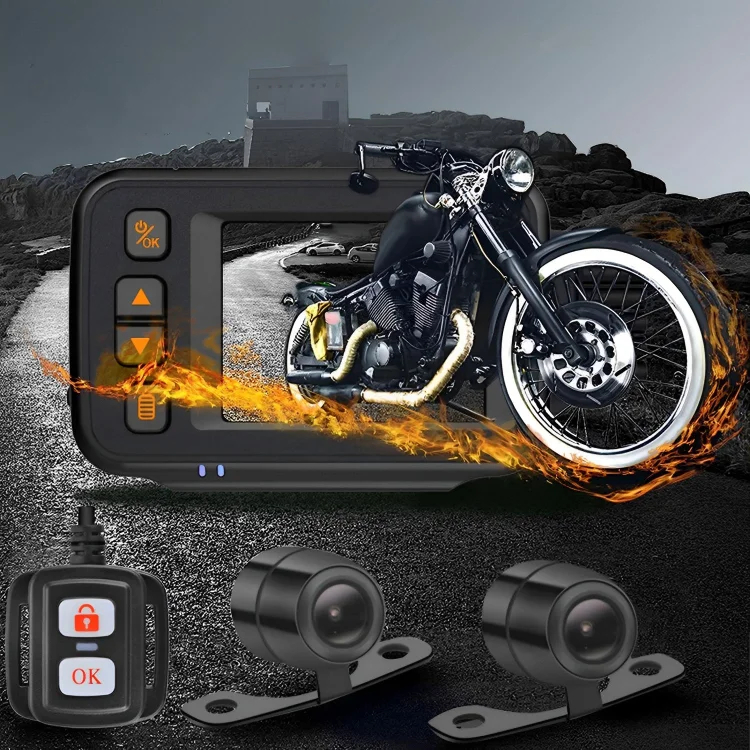 Waterproof Motorcycle Dash Cam Front And Rear
Ride safer, improve your skills, and relive the thrill with our Motorcycle Dashcam.
Capture every moment and stay protected on your two-wheeled adventures. With crystal-clear 720P Full HD resolution and a 3'' LCD display, you'll never miss a beat.
Feel the security of a 120° wide-angle lens, providing 360-degree protection against accidents and reckless drivers. No more worrying about hit-and-run incidents - our dashcam captures license plates like a pro.
Say goodbye to insurance claim hassles with clear video evidence that expedites the process. And when road rage or unsafe driving strikes, you've got the footage to report them to the authorities.
Not just for problems, this dashcam documents your scenic rides, creating memorable videos of your travels. And when you park your bike, rest easy knowing it acts as a deterrent to potential thieves.
HIGH-DEFINITION CLARITY -

Crisp and clear video quality with 720P Full HD resolution and a vibrant 3'' LCD display.
WIDE-ANGLE VISION -

120° wide-angle lens ensures comprehensive coverage, leaving no blind spots on your journeys.
CONTINUOUS PROTECTION -

Loop Recording and Motion Detection keep you protected 24/7 by automatically overwriting old footage and capturing any sudden movements.
WEATHERPROOF ASSURANCE -

Built to withstand the elements with ultra-waterproof technology, no need to worry about rain or splashes.
DUAL-VIEW CONVENIENCE -

Split screen display gives you a real-time view of both the front and rear, enhancing your situational awareness on the road.
MOTORCYCLE DASHCAM SPECIFICATIONS:
Video Capture Resolution: 720p

Connectivity Technology: USB

Color: Black

Screen Size: 3 Inches

Flash Memory Type : SD

Host input voltage: 5V 2A

Language: Multiple languages

Image format: JPG

Video format: AVI
PACKAGE INCLUDES:
1 X Motorcycle dashcam

1 X Front camera

1 X Rear camera

1 X Step-down line

1 X USB cable

2 X Video cable

1 X Manual