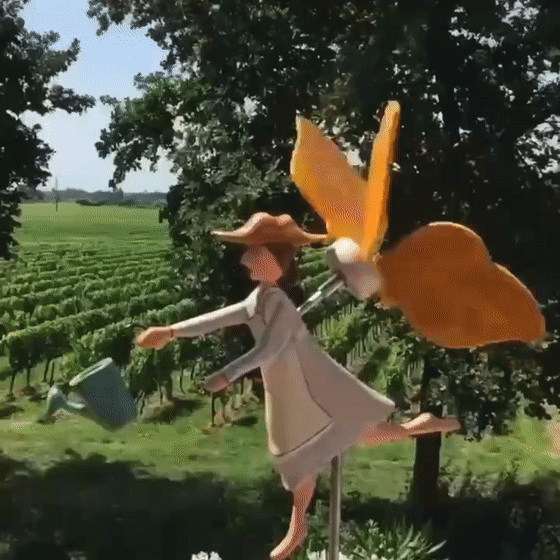 Windmills are children's favorites, and the inspiration for our works comes from this. Through our team's continuous exploration and R&D production, we finally realized that every one can be perfectly displayed.
Ideal for decorating gardens, flower pots, terraces. (Flower ornament)
Each piece is unique, numbered and specially made to your order.
Size:
Clown/Water flowers/Pick honey/Diver/Mermaid/Broom Witch: 8.1 inches (H) x 8.6 inches (W)
The key is that we are guided by the principle of priceless works of art, so each of our products is made by hand to ensure product quality.

Measures:
The Body of Rose measures 35 cm in length, 26 cm high.
The wings measure about 20 x 20 cm




Complete with his steel stake on which he orients following the direction of the wind is ready to take up residence in the garden and start flying!
Dear customers:

Thank you for visiting Palygrou store!
We wish you and your family good health.
Due to COVID-19, international logistics is becoming more and more unstable, and the shipping time for all countries has been extended significantly.
To ensure shipping quality, we now use 4PX as our major shipping partner, most of the packages will be delivered within 10-21 days. This is the fastest parcel service we can find in the market at this stage.
We have extend our refund policy from 15 days to 30 days to cover the possible delay situations.
Below is the advised shipping rates & time frame for different methods, the time frame in this table is for reference only, as the situation changes day by day, the real shipping time for your order might be different with it.


Free Shipping For Orders Over $69

Most package will take around 15-21 business day

Countries
Shipping Methods
Prouduct Amount($)
shipping Charge
United States
Standard Shipping
0.01≤PA

<

68.99
$7.99
United States
Free Shipping
PA

≥

69
$0
*The shipping rates for some products might be different from this table