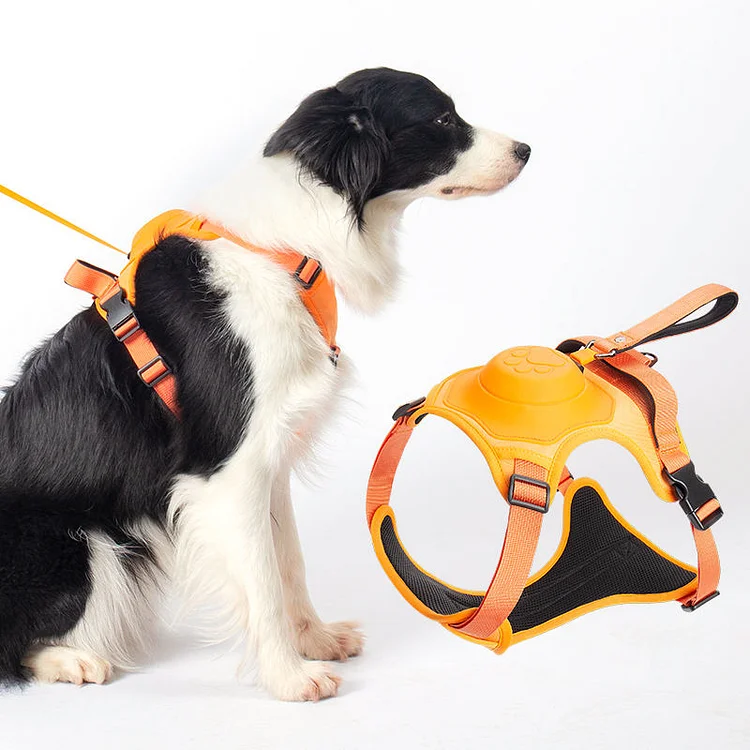 Simplify Your Dog Walking Routine with Our Innovative Retractable Dog Leash and Harness!
Are you exhausted from the ongoing battle of using separate leashes and harnesses for your furry companion?
Well it's time to take control and eliminate the stress of your dog's sudden pulls or lunges. Don't settle for antiquated leashes and harnesses that leave you and your canine explorer uncomfortable and dissatisfied.
Prepare to have your dog walking experience transformed by our all-in-one retractable dog leash and harness.
Every aspect of this product has been meticulously crafted, taking into account the common challenges faced by dog owners. Get ready to witness how our innovative design effortlessly solves these problems, delivering unparalleled benefits.
We've honed and refined this product to perfection, with a laser focus on resolving the common challenges encountered by dog owners with…
✅ Innovative and Versatile Design
✅ Unmatched Control and Comfort
✅ Seamless Leash-Harness Integration
✅ Hands-Free Freedom
✅ Enhanced Safety Features
✅ Breathable and Durable Materials
✅ Effortless Buckle Mechanism
✅ Optimal Fit and Security
✅ Simplified Dog Walking Experience
Let us unveil the exceptional solutions provided by our innovative design, offering you a range of unparalleled benefits!
🐾 High-Quality Retractable Leash:
Our leash boasts a generous length of 1.3 meters, accommodating various usage scenarios and allowing your dog to explore with freedom while remaining under your control.
🐾 Automatic Locking Technology:
When your dog tries to pull or lunge, our retractable leash automatically locks, preventing sudden bursts of movement and ensuring both your dog's safety and your peace of mind.
🐾 360 Degree Surrounding Protection:
Our harness wraps around your dog, reducing pressure on its neck and armpits. This thoughtful design minimizes discomfort and potential harm, providing a secure and enjoyable walking experience for your furry friend.
🐾 Wide & Thick Handle:
Our retractable dog leash is equipped with a wide and thick handle, providing you with a secure grip and allowing for quick control in emergency situations. Rest assured that you can handle any unexpected circumstances with ease.
🐾Automatic Retraction:
Once you're done using the leash, simply release the handle, and the retractable mechanism will automatically retract the leash. No more tangling or time-consuming manual rewinding.
🐾 Fitted Cut Design:
Designed with a snug fit, our harness provides optimal comfort for your dog while minimizing the risk of escape. Say goodbye to the worry of your dog slipping out of its harness and enjoy stress-free walks.
Experience the joy of walking your dog with confidence, convenience, and comfort.
With our All-in-One Auto-Lock No-Pull Control Hybrid Dog Harness with Built-in Retractable Leash, you'll never have to worry about separate leashes and harnesses again!