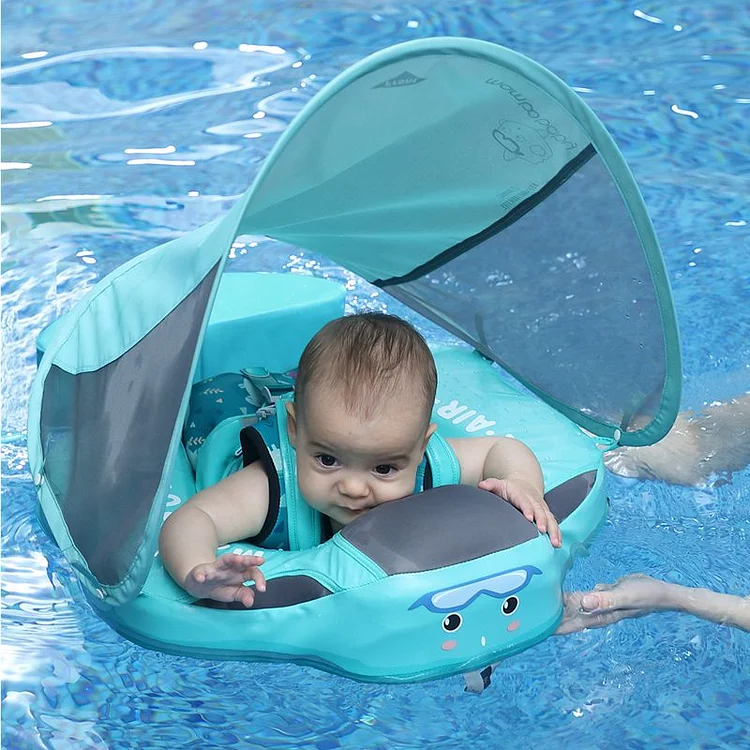 THE PERFECT SWIMMING AID FOR YOUR BABY.
Did you know? Many low-quality inflatables pose a huge hazard to your little one as most parents only realize that there's a leak after discovering that their child is slowly sinking into the water. - It could have been worst.
SAFELY INTRODUCE YOUR BABY TO WATER
Don't waste your breath blowing those low-quality inflatables. Our Smart Swim Trainer is constructed with High-Quality PearlFoam™ that is moisture-proof, yet extremely breathable, lightweight with superior buoyancy.
Designed for maximum comfort, your baby will have a blast while building confidence as they learn to paddle and kick in the water in a natural and safe position - No more lousy inflatable floats that leaks every time, spoiling the fun.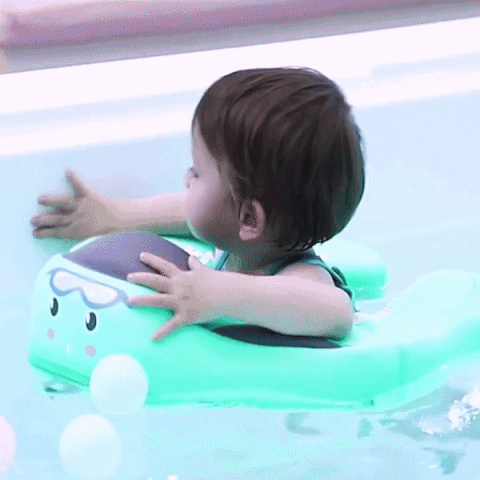 UPGRADED SAFETY ANTI-FLIP DESIGN
This Smart Swim Trainer float is built with widened sides for maximum buoyancy and a heightened front to remove all risk of accidental tipping over in any direction. Your baby will still be able to see and touch the water comfortably. We have also included a groove in front to rest their chin. You can also place your baby backwards!
EXTRA SAFETY MEASURES!
Our upgraded Sturdy Safety lock and Harness System ensures your baby doesn't slip when they are vigorously paddling. Our Thickly padded adjustable crotch & chest strap together with our Double Safety Clasp provides extra security by supporting their legs, preventing them from slipping out or flipping forward.
FAQ
How Do I Secure The Mambo Float To My Baby?
Unlock the baby infant swim float buckles.

Place the baby in middle face forward and down.

Wrap and close the side wings on baby float around their back.

Adjust the strap tightness around the waist of baby in float.

Adjust the bottom crotch straps for tightness to fit child securely.

Let your infant or toddler begin to swim in their new safety swimming float!
Is It Safer Than Traditional Float Rings?
Absolutely. It uses an innovative 5 point secure buckle system combined with a double-lock design under the crotch area to properly secure the baby as well as keeping them upright to prevent tip-over/flipping. There is simply no other baby float in the world as safe as ours, as complies with world-class safety standards (AU, US, CA, UK/EU).
Is The Canopy & Tail-Fin Easily Detachable?
Of course, it's secured with velcro straps and quickly folds away for easy storage. It's easily usable with and without the canopy for indoor and outdoor use!
Does It Ever Leak Or Get Damaged Easily?
Nope! It utilizes our patented PearlFoam technology combined with a tough exterior cover which ensures it will last for years to come! It can even withstand the weight of a car with no deformations or damage at all. That means no more leaks, punctures or blowing!
How Do I Wash And Maintain It? Is It Easy To Dry?
Hand wash with mild detergent, Do not scrub or brush;

Hang it in a cool and ventilated place after use in order to avoid mildew. 

Yes it dries very easily.
What Is The Minimum And Maximum Age/Weight To Use This Product?
Suitable for babies up from 3 months - 2 years old (6-18kg/12-40lb)
Happy Customers
We've supplied our patented & ultra-safe Mambo Float to thousands of parents around the world. Don't forget to check out our reviews section below and submit your photo for 15% off your next order!
PRECAUTIONS:
Do NOT use this as a lifesaving device.
Use it under parents' supervision at all times.
Please do not remove the plastic cover inside the float
Weight Limit: 22kgs MAX (44lbs)
Height: 48.5 cm
Weidth: 46.5 cm
SPECIFICATIONS:
Suitable for babies up from 

3 months - 4 years old

Suitable for babies with sensitive skin (Swim cloth)