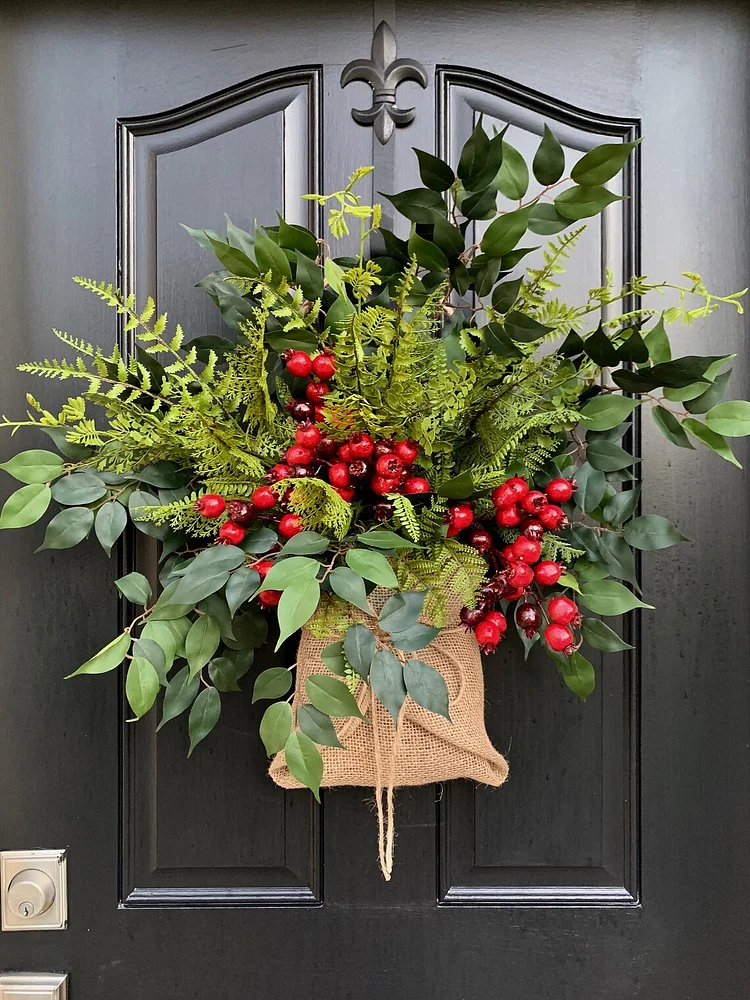 💐Ring in the new Spring season with the best of farmhouse Baskets for your door, look no further!Red Berries, Burlap decor that can hang or sit on counter top/table etc... So adorable for Wreath Lovers!!!✨✨✨
🌿This custom created farmhouse flower basket is full of gorgeous Artificial Greenery, Artificial Red Berries, Twig Basket, Burlap, Twine, Moss to complete this one of a kind basket.Each arrangement is handmade with the very best, high quality materials. 100% artificial.💖💖💖
🏠💝Welcome your guests with this large, bright and sunny, door basket wreath. It is a unique alternative to the traditional door wreath.

Farmhouse Style Baskets measures approximately 25" tall x 22" wide x 7" deep
Always handmade with the highest quality materials
Features faux Artificial Greenery, Artificial Red Berries, Twig Basket, Burlap, Twine, Moss
For indoor or covered outdoor use
🏠Perfect as year-round door and wall decor, this wreath also makes a thoughtful gift for housewarmings, birthdays, weddings, and even as a just-because gift for Mom!👩
✨It is handmade by uniqfloral with the finest faux materials for a realistic look on your front door, wall or mantle.Use this Wreath to say "Welcome to our home" throughout the season.
💝I'm having a love affair with floral baskets. They're unique and definitely on trend. Make each visit from your friends and family a memorable one with this wreath hanging on your front door or over your mantel!!