Is your dog dying of boredom while you are not at home? Automatic Tennis Ball Launcher is a genius invention that helps both you and the pup experience the thrill of ball throwing without any extra effort. It's a perfect toy for your dog to play even when you're away! All you have to do is plug it in, choose your launching distance and then drop in a mini ball. Soon your dog will learn how to drop it himself, which stimulates his mind and allows for totally independent play.
Helps in stimulating the dog's mind
Enhances the dog's physical activity
Creates independent play for the dog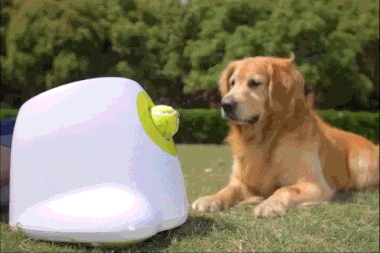 🐶 Enhances the dog's physical activity
The Fetchly ball launcher for dogs is a great way to keep your pup in shape, maintain its health, and help him lose weight by constantly fetching the ball.
🐶 Fetchly helps in stimulating the dog's mind
Fetchly tennis ball launcher can not only improve your dog's physique, but also develop his mental abilities and keep his mind constantly stimulated. Playing with the launcher for 30 minutes every day will keep your pooch alert and mentally active.
🐶 Creates independent play for the dog
In case you often leave your pup on his own when you go to work or run errands, Fetchly automatic tennis ball thrower can help your pup stay entertained and physically active even when you are not around.
🐶 No more fatigue!
Fetchly automatic tennis ball launcher can save you the hassle of constantly throwing and retrieving the ball or help you overcome the physical limitations that prevent you from spending quality time with your pet.
🐶 Perfect toy for dog training
Introducing your pup to the iPaw ball launcher brings an element of surprise to your dog's life and improves his confidence as he learns to operate the machine better.
🐶 Fetchly helps create special bond with your dog
If you are an older dog owner or have physical problems preventing you from engaging in throw-and-fetch regularly with your dog, Fetchly ball launcher for dogs can be the best solution for maintaining that special bond without too much effort.
🐶 Most popular ball launcher for dogs
Fetchly automatic ball launcher for dogs is one of the most popular throwers available on the market today with thousands of happy pups and their owners. This automatic dog ball thrower has a very eye-catching and yet incredibly futuristic design, but there is much more to its popularity than just an attractive look. It comes with three standard tennis balls, but if/when you run out of them, you can successfully use any balls of a similar size.
🐶 Perfect for indoor and outdoor
The iPaw ball launcher runs on AC Adapter (included) or 6 C-cell batteries. Once powered up, select the distance that best suits your space by pressing the button on the rear of the machine. Fetchly has three distance settings, 10, 20 or 30 feet. Once selected your dog drops the mini tennis ball into the top and the ball is launched out of the machine, for your fetch crazy dog to chase & collect!
Fetchly automatic ball thrower for dogs has been one of the greatest inventions of the pet product market. Unfortunately, few of us have the luxury to just spend hours with our dogs playing throw-and-fetch.
Even though we are used to thinking about dogs as family pets, they are actually animals trained for hard work and hunting. Limiting those aspects of your dog's life can lead to your pet becoming physically weak, less energetic, or even more aggressive.
Fetching is one of the strongest instincts in most dog breeds, with some breeds like Labrador Retriever being specifically trained to fetch things for their owners. Throw-and-fetch is one of the first games you learn with your pup and likely a favorite activity for the two of you.
HOW IT WORKS:
push the "power on /off button" for 3 seconds to turn the Hyper fetch Mini on.

the "power on/off indicator" (green light) will turn on. To turn off the Hyper Fetch Mini, push the "power on/off button" for another 3 seconds.

press "power on/off button" to choose the distance 10ft, 20ft or 30ft.

put the mini balls in the ball basket on the top of the Hyper Fetch Mini.

when balls are placed into the ball basket, the Hyper Fetch Mini will throw a ball every 10 seconds.

remarks There is a tennis ball sensor in the toy. It will scan every 10 seconds. Once detecting the ball, it will trigger the launch system to launch the ball out.
Shipping:
How is the delivery time calculated?

When processing with your order, we consider these factors when calculating the Estimated Delivery Date:

Order Processing:

After your payment is authorized and verified, we will start processing your order and this process often takes 1-4 business days, so please be patient with us.
Transit Time:

Delivery carriers have now implemented social distancing policies. This means that during your delivery you will no longer be asked to sign an electronic device on delivery and their staff will not physically hand the parcel to you

Need a rush order? Please email us at [email protected] or +(86)19520880075.
Free Shipping For Orders Over $69
Countries
Shipping Methods
Below $68.99
Above $69
Delivery Time (Natural Days)
United States
Standard
$6.99
$0
15-21 Days
United States
Express
$12.99
$12.99
10-15 Days
As we comply with COVID-19 guidelines, shipping timelines may vary. Currently our delivery carriers are experiencing intermittent delays.

Please note that these are estimated delivery times only.

How much is the shipping charge?
Shipping charges are estimated due to your location and the order's weight. The minimum shipping fee will be $6.99.

Please ensure all delivery information is correct. If there is incorrect or missing information, we may be required to contact you for an update on the delivery information, which can cause delays in delivering your order. Delays may also occur as a result of customs clearance.

Please fill in your address in all details, otherwise, the package we mail to you will be returned to us.
ORDER TRACKING
A shipping confirmation is emailed to you as soon as your purchase has been shipped, which will allow you to track the status of your shipment.

For customers who select economy shipping, to track the order, you can visit Trackingmore or directly at the courier's website:


TAXES & DUTIES
Import taxes, duties and related customs fees may be charged once the parcel arrives at the destination country. These charges are determined by the customs office of the specific destination.

The payment of these fees and taxes is the responsibility of the recipient and will not be covered by this website. For further details of charges, please contact your local customs office.
Any question, be free to contact us, and we will get back to you in the first chance!

Please email us at [email protected] or +(86)19520880075

Email:[email protected]
Phone: +86 19520880075
Store address: Room 201, Unit 1, Building 37, Xinglong Third District, Futian Street, Yiwu City, Zhejiang Province

Thank you all for your concern and support!