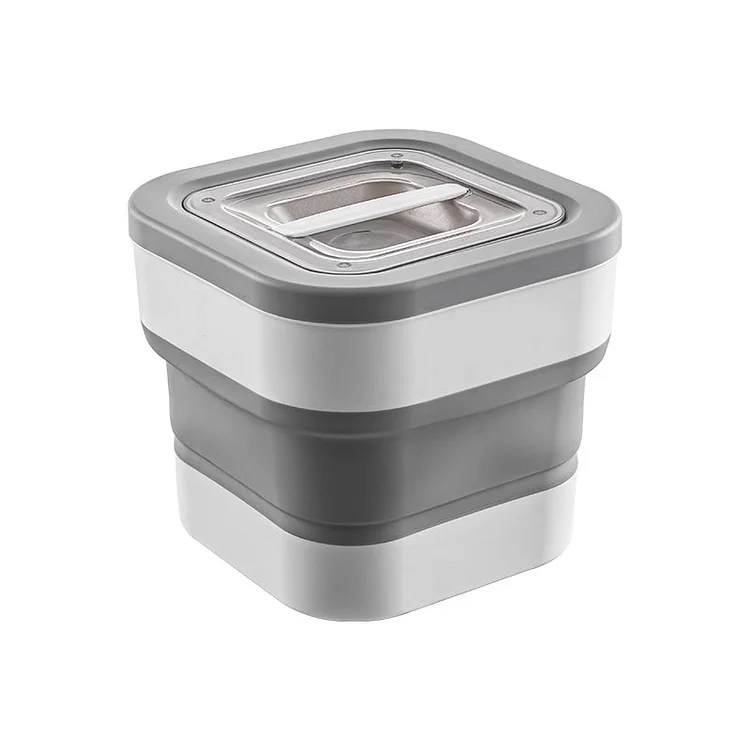 Efficiently Organize and Preserve Your Dog's Food with the Collapsible Dog Food Storage Container - A Secure and Stylish Solution!
The Most Reliable Deluxe Dog Food Storage Container:
✅ Space-saving design
✅ Airtight freshness
✅ Convenient scoop included
✅ Versatile storage solution
✅ Durable and long-lasting
✅ Transparent food level check
✅ Easy portion control
✅ BPA-free materials
✅ Moisture-proof protection
✅ Flexible collapsible feature
✅ Multi-purpose functionality
✅ Quality assurance guarantee
Experience the Revolution in Pet Food Storage with our portable and Stylish Dog Food Storage Container.
(...Freshness, Convenience, and Space-Saving Delivered!)
Featuring innovative technology and a space-saving design, it is the most cost-effective and luxurious solution for keeping your dog's meals fresh.
Despite its large capacity, it offers remarkable portability without compromising your pet's health. With automatic airtight sealing, moisture-proof features, and a transparent lid for quick food level checks, you can trust that your pet's food will stay fresh and nutritious.
Spacious and Foldable:
This container is the epitome of versatility! With its collapsible design, you can effortlessly adjust the capacity to meet your specific storage needs. Unfolded, it can hold up to a whopping 15 lbs of pet food or 20 lbs of rice, while folded, it can accommodate 5 lbs of pet food or 7 lbs of rice. Say goodbye to cluttered cabinets and hello to space-saving convenience!
Sealed and Moisture-Resistant:
Our dog food storage container is equipped with a silicone seal, magnetic snap, and even includes a desiccant box. These features work harmoniously to create an airtight and moisture-proof environment, ensuring that your pet's food stays fresh, nutritious, and free from pests. Give your furry companion the best with every meal!
Portability Beyond Imagination:
Portability is a key feature of our dog food storage container. Designed to be lightweight, it offers effortless mobility and convenience. Whether you're traveling, going on outdoor adventures, or simply rearranging your space, this portable container allows you to easily transport your pet's food wherever you go.
🐾 User-Friendly and Convenient:
We've thought of everything to make your life easier! This container comes with a food scoop and measuring cup, allowing you to effortlessly control portion sizes and monitor your pet's food intake. The transparent lid provides a quick and convenient way to check the food level, eliminating any surprises during mealtime. Your pet's health is our priority!
High-Quality Material and Versatile:
Crafted from food-grade, BPA-free, high-density polyethylene plastic, this container is not only tough and durable but also safe for your pet. The folding part is made of TPR material, adding flexibility and resilience. While perfect for dog food storage, it can also be used for storing flour, rice, nuts, legumes, grains, snacks, and more. It's a must-have for every pet parent and kitchen enthusiast!
Satisfaction Guaranteed:
We stand behind the quality of our product! If you have any concerns or questions, our dedicated customer support team is available 24/7 to assist you promptly.
Specifications :
Material: PP+TPE

Color: Gray

Folded size: 28.5 * 28.5 * 10CM, capacity: 5KG;

Size after opening: 28.5 * 28.5 * 25CM, capacity: 10KG.
We are confident that our Dog Training Treat Pouch will exceed your expectations, and should you have any concerns, our dedicated customer support team is always ready to assist you.
So order now to keep essentials handy and treats accessible with our ultimate training companion Dog Training Treat Pouch!