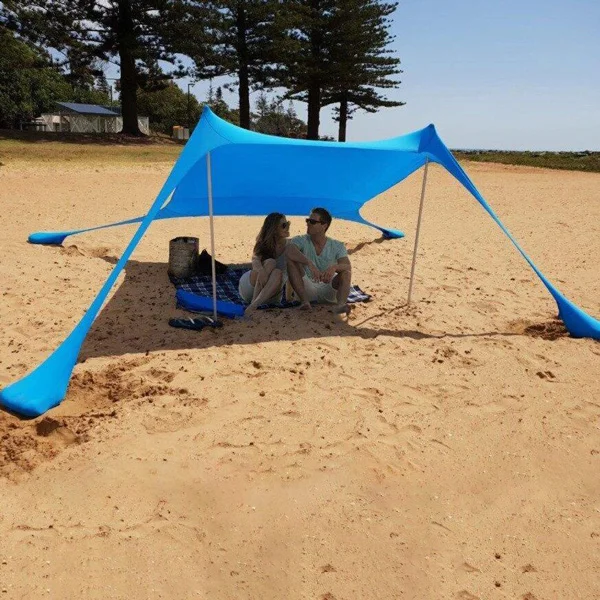 The mechanical support mechanism, which employs a stakeless anchor up support and instant set-up design, is sturdy enough to withstand strong gales of wind without being overbearingly heavy.
This makes it your ideal companion for family picnics, beach lounging, shelter during sporting events and simple camping excursions.
What's more, you can now enjoy a fun-filled day outdoors at a fraction of the usual costs of buying a conventional bulky tent!
BEACH TENT SUNSHADE SANDBAG ANCHORS & POLES
Features and specifications:
The tarp is available in two sizes:
• Family (unstretched): 210 x 210 cm (82.68 x 82.68 in)
Category: Tent for 4-6 People
Bracket Category: Iron Rod
Bottom Waterproof Index: 1500-2000 mm
Outside Tent Waterproof Index: 2000-3000 mm
Size: 210*210cm
Color: green/blue/red
weight: 1.9kgHighest standard: Lab certified to measure sunburn protection from harmful UV rays. Fabric provides 98% protection from the sun's harmful UVA & UVB rays.
Stretchable sandbag anchors: San-bags will stretch and be able to hold a large amount of sand.