🙏Amen,💗May health and good luck be with you, and bless you and your family and friends.
💝This breathtaking and elegant Polyresin Statue shows The Last Supper.
💝Each detail is precisely handmade and crafted to create a beautiful statue. Perfect to celebrate any special religious occasion such as a wedding, baptism, or first communion.
💝💝For your convenience, it can easily be placed on any surface. This powerful, colorful statue makes a bold statement in a church classroom or home setting. Also, this extraordinary statue is the perfect item for interior decoration. Add any depth or warmth to any room in your home with this statue.
💝Handmade Craftsmanship: Each piece of work is hand-made by our craftsmen, artistic personality statues, thought artists, and innovative works.
Materials: Polyresin Statue
The Perfect Gift: Statuettes and trinkets are the perfect gift for your friends, family or yourself, enriching your art collection to celebrate your move, birthday, engagement or other special and precious moments in your life.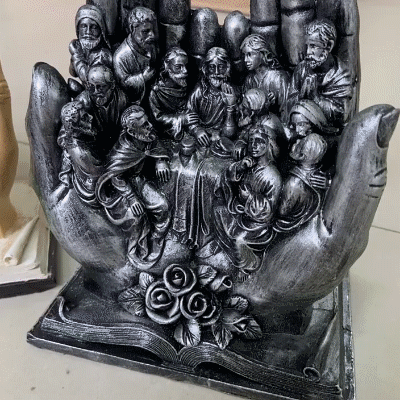 Applicable Occasions: For friends and family who like simple, bright, friendly and luxurious decoration, whether it is on the windowsill, in the glass display cabinet or on the the table, you can use it as a gift in the living room, bedroom, corridor, dining room or other places.