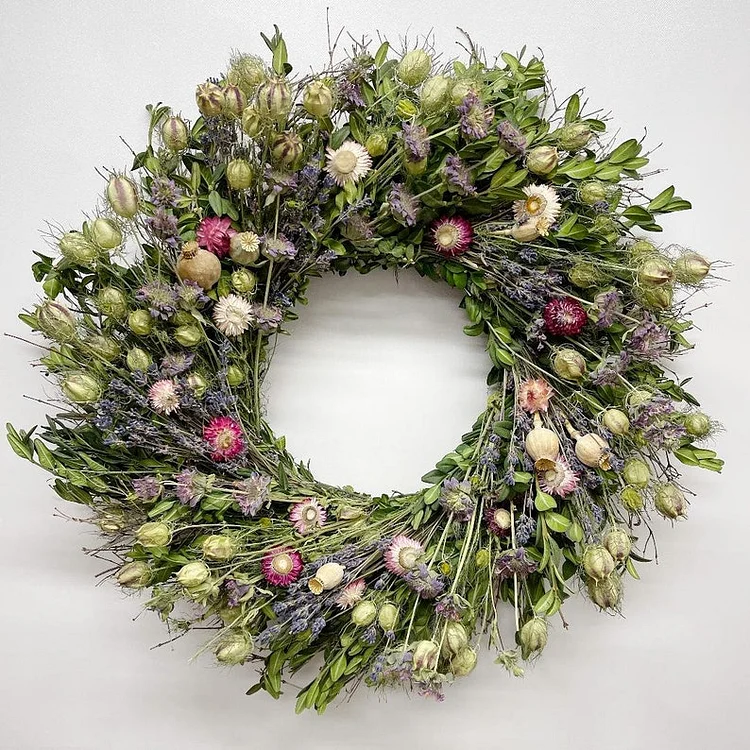 💜💜💜Please note we are running low on bluff celosia ( A tan colored element in this wreath) and we are supplementing it with extra pink shades of strawflower ) .we will be supplementing with extra pretty strawflower until our new harvest of Celosia is ready in the summer!
This wildflower & lavender design is our most popular dried wreath! This style is perfect for a true flower lover. Wonderful in so many styles of homes, from
Traditional, to eclectic, modern farmhouse, cottage inspired to eco chic!
So full of color and texture, straight from the farm, this wreath is sure to delight! A mix of dried boxwood, quail brush, nigella, lemon mint, buff celosia, lavender, and strawflowers. The lavender and mint give this wreath a lovely scent! Size measures approximately 17 inches.
This wreath is made with all dry elements and will last for years if kept indoors out of direct sun, rain and elements long term.
If used outdoors with no sun or exposure to the elements this wreath can be expected to be used for one season. Indoors it will last for years! Elements include things like, rain, heat, humidity, and frost, can cause this to change rapidly.
💜💜💜Please note: we try our best to make each product look as similar to the picture as possible. But each flower and Sprig varies in nature and so the final piece may not look exactly like the picture just like in nature! Also please note that it is normal to have shedding of dried flowers during transit and our wreaths are created around that knowledge, and will not impact the overall design.